Jasminum officinale 'Argenteovariegatum' (v)
jasmine 'Argenteovariegatum'
A large deciduous climbing shrub. Leaves pinnate with 5-9 ovate leaflets, grey-green edged with cream. Flowers 2cm in width, white, scented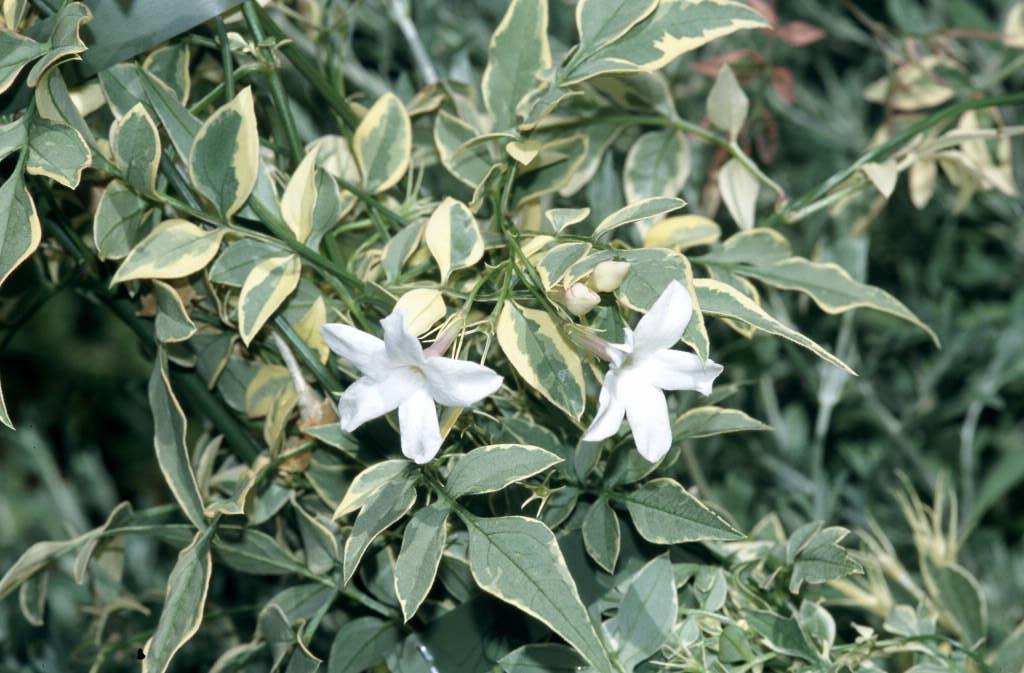 Size
Ultimate height
2.5–4 metres
Time to ultimate height
5–10 years
Ultimate spread
0.5–1 metres
Growing conditions
Moisture
Moist but well–drained,
Well–drained
pH
Acid,
Alkaline,
Neutral
Stem
Flower
Foliage
Fruit
Spring

Cream

Green

Grey

Silver

Summer

White

Cream

Green

Grey

Silver

Autumn

White

Cream

Green

Grey

Silver

Black

Winter
Position
Aspect
South–facing or West–facing
Botanical details
Family

Oleaceae

Native to the UK

No

Foliage

Deciduous

Habit

Climbing

Genus

Jasminum are evergreen or deciduous shrubs, many climbing by twining stems bearing usually pinnate leaves, and star-shaped white, pink or yellow flowers, which are sometimes very fragrant. Fruit a black berry

Name status

Accepted
How to grow
Cultivation
To bring out the sweet fragrance of the flowers, the ideal planting position should be warm, sunny and sheltered but it will cope with partial shade and colder positions provided the soil is well-drained
Propagation
Propagate by layering, hardwood cuttings or semi-hardwood cuttings
Suggested planting locations and garden types
Coastal
Low Maintenance
Wall side borders
Ground cover
Pruning
Prune out thin, old shoots after flowering
Pests
May be susceptible to aphids, scale insects and mealybugs and glasshouse red spider mite under glass
Diseases
May be susceptible to honey fungus (rarely)
Get involved
The Royal Horticultural Society is the UK's leading gardening charity. We aim to enrich everyone's life through plants, and make the UK a greener and more beautiful place.