Conservatory Greenhouse
Herbaceous Perennial
Kohleria hirsuta
woolly kohleria
K. eriantha is a bushy rhizomatous perennial to 1m in height, with narrowly ovate leaves margined with red hairs, and clusters of tubular orange-red flowers 2.5cm in length, spotted with yellow on the lower lobe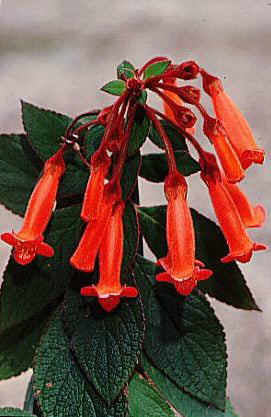 Size
Ultimate height
0.5–1 metres
Time to ultimate height
2–5 years
Ultimate spread
0.1–0.5 metres
Growing conditions
Moisture
Moist but well–drained
pH
Acid,
Alkaline,
Neutral
Stem
Flower
Foliage
Fruit
Spring

Green

Red

Summer

Orange

Red

Green

Red

Autumn

Green

Red

Winter
Position
Aspect
East–facing or North–facing
Botanical details
Family

Gesneriaceae

Native to the UK

No

Foliage

Deciduous

Habit

Bushy

Genus

Kohleria are erect rhizomatous perennials with simple, toothed leaves sometimes with silvery markings, and solitary or clustered tubular or bell-shaped flowers with 5 spreading rounded lobes

Name status

Correct

Plant range

Tropical America
How to grow
Cultivation
Grow outdoors in moist but well-drained soil in partial shade in a sheltered frost-free area. Grow under glass in loam-less compost in bright filtered light, with high humidity. Use soft water when watering
Propagation
Propagate by division in spring
Suggested planting locations and garden types
Pruning
No pruning required
Pests
May be attacked by aphids
Diseases
May be subject to rhizome rot
Get involved
The Royal Horticultural Society is the UK's leading gardening charity. We aim to enrich everyone's life through plants, and make the UK a greener and more beautiful place.