Conservatory Greenhouse
Palms
Archontophoenix alexandrae
Alexandra palm
A tall, fast-growing palm with a slender trunk, swollen at the base and ringed with leaf scars. Huge, arching leaves up to 4m long have numerous, narrow leaflets pale green or purple-flushed above, grey or silver below. In summer, cream to yellow flowers open in large sprays, followed by pinkish-red fruit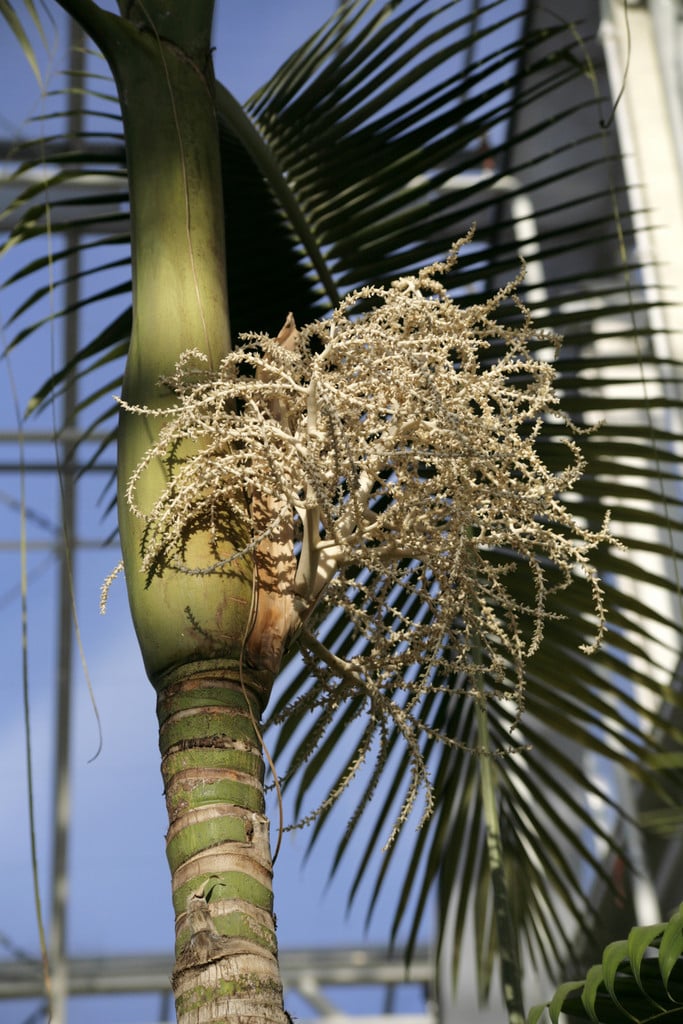 Size
Ultimate height
Higher than 12 metres
Time to ultimate height
20–50 years
Ultimate spread
4–8 metres
Growing conditions
pH
Acid,
Alkaline,
Neutral
Stem
Flower
Foliage
Fruit
Spring

Green

Grey

Silver

Summer

Cream

Yellow

Green

Grey

Silver

Autumn

Green

Grey

Silver

Red

Winter

Green

Grey

Silver
Position
Aspect
West–facing or East–facing
Botanical details
Family

Arecaceae

Native to the UK

No

Foliage

Evergreen

Habit

Columnar upright

Genus

Archontophoenix are single-stemmed evergreen palms with large pinnate leaves and large panicles or racemes of small cup-shaped flowers

Name status

Correct

Plant range

E Australia
How to grow
Cultivation
Under glass grow in loamless potting compost in bright, filtered light with moderate humidity. When in growth, water moderately and apply a liquid fertilizer monthly; keep just moist in winter. Outdoors grow in fertile, moist but well-drained soil in part shade to prevent leaf scorch
Propagation
Propagate by seed sown in spring at 24-27°C (75-81°F). Keep compost moist and air humid
Suggested planting locations and garden types
Architectural
Sub-tropical
Pruning
Minimal pruning required; remove dead leaves by cutting close to the leaf base leaving stubs to create a neat pattern
Pests
Glasshouse red spider mite may be a problem under glass
Diseases
Generally disease free
Get involved
The Royal Horticultural Society is the UK's leading gardening charity. We aim to enrich everyone's life through plants, and make the UK a greener and more beautiful place.