Rosa 'William Lobb' (CeMo)
rose 'William Lobb'
Very vigorous old garden rose about 2.5m tall, open in habit, with long, arching, mossy stems bearing rich green leaves. Very fragrant, large, semi-double, deep magenta-purple blooms, 9cm across, open from heavily-mossed buds, then fade to greyish-purple, once-flowering in midsummer; Laffay 1855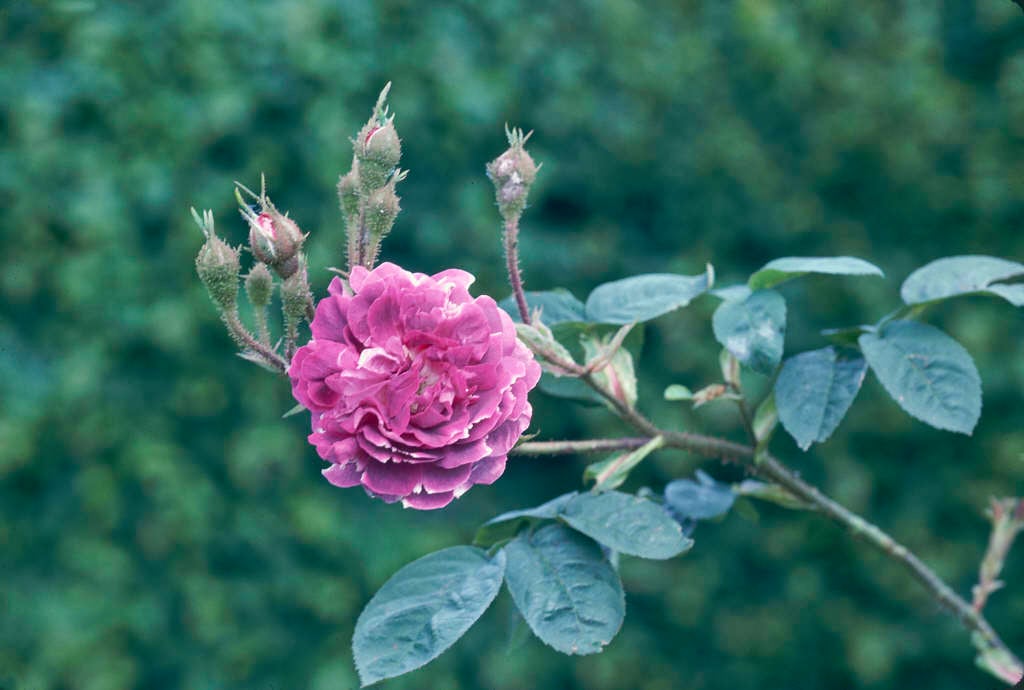 Size
Ultimate height
1.5–2.5 metres
Time to ultimate height
2–5 years
Ultimate spread
1–1.5 metres
Growing conditions
Moisture
Moist but well–drained,
Well–drained
pH
Acid,
Alkaline,
Neutral
Stem
Flower
Foliage
Fruit
Spring

Green

Summer

Purple

Red

Green

Autumn

Green

Winter
Position
Aspect
East–facing or South–facing or West–facing
Exposure
Exposed or
Sheltered
Botanical details
Family

Rosaceae

Native to the UK

No

Foliage

Deciduous

Potentially harmful

Fruit are ornamental - not to be eaten. Wear gloves and other protective equipment when handling

Genus

Rosa can be deciduous or semi-evergreen shrubs or scrambling climbers, with usually thorny stems bearing compound pinnate leaves and solitary or clustered flowers. Flowers may be followed by showy red or purple fruits in some varieties.

Name status

Accepted

Horticultural Group

Centifolia roses are lax bushes with thorny stems and double, usually fragrant flowers in summer
How to grow
Cultivation
Vigorous moss rose for growing in full sun with fertile, humus-rich, moist but well-drained soil. For best flowering apply a balanced fertiliser and mulch in late winter or early spring and a balanced fertiliser again in early summer - see rose cultivation. Tolerant of poor soil and suitable as a pillar or climbing rose
Propagation
Propagate by hardwood cuttings in autumn or by chip budding in summer
Suggested planting locations and garden types
Cottage and informal garden
Climber and wall shrubs
Cut flowers
Flower borders and beds
Wall side borders
Pruning
See pruning group 20 (shrub roses); can be trained as a short climber, see pruning group 17 (climbing roses)
Pests
May be susceptible to aphids, rose leafhopper, glasshouse red spider mite, scale insects, caterpillars, large rose sawfly, rose slugworm sawfly and rose leaf-rolling sawfly. Deer and rabbits can cause damage
Diseases
May be susceptible to rose black spot, rose rust, replant disease, rose dieback, and rose powdery mildew and sometimes honey fungus. May also be susceptible to disorders rose blindness and flower balling
Get involved
The Royal Horticultural Society is the UK's leading gardening charity. We aim to enrich everyone's life through plants, and make the UK a greener and more beautiful place.