Conservatory Greenhouse
Shrubs
Fuchsia 'Monsieur Thibaut'
fuchsia 'Monsieur Thibaut'
'Monsieur Thibaut' is a compact, bushy shrub with dark, serrated leaves and chubby single flowers with broad, spreading cerise-red sepals and tube, and magenta petals with red veining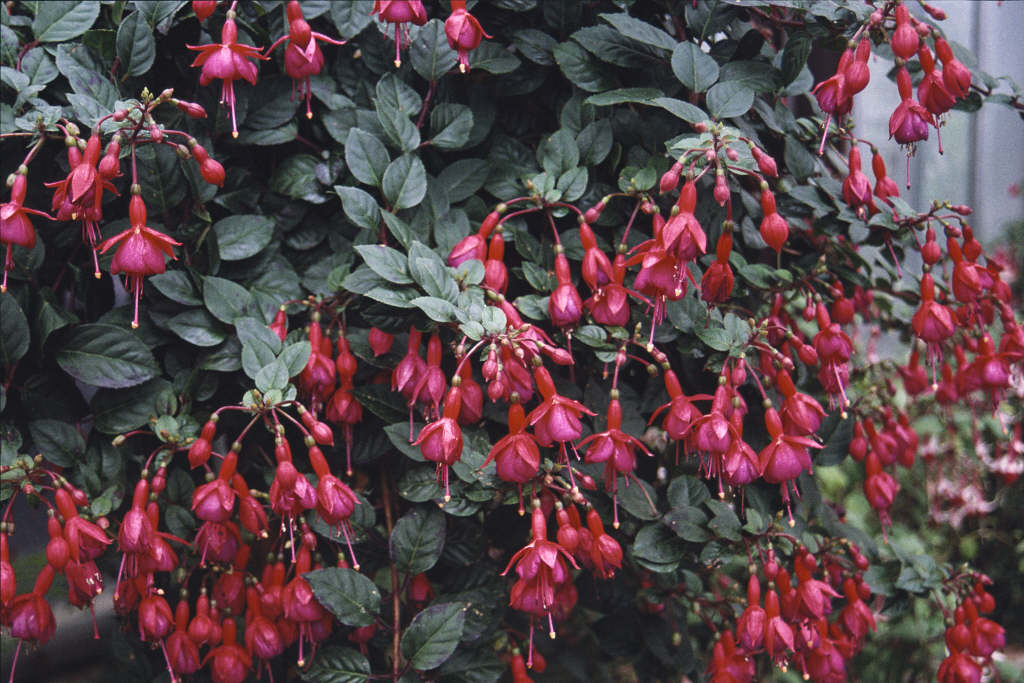 Size
Ultimate height
0.1–0.5 metres
Time to ultimate height
2–5 years
Ultimate spread
0.1–0.5 metres
Growing conditions
Moisture
Moist but well–drained,
Well–drained
pH
Acid,
Alkaline,
Neutral
Stem
Flower
Foliage
Fruit
Spring

Green

Summer

Purple

Red

Green

Autumn

Purple

Red

Green

Winter
Position
Aspect
South–facing or West–facing or East–facing
Botanical details
Family

Onagraceae

Native to the UK

No

Foliage

Deciduous

Habit

Bushy

Potentially harmful

Fruit are ornamental - not to be eaten. Wear gloves and other protective equipment when handling

Genus

Fuchsia can be deciduous or evergreen shrubs or trees, rarely perennials, with opposite or whorled leaves and usually pendent flowers with conspicuous tubular calyx, 4 spreading sepals and 4 erect petals

Name status

Accepted
How to grow
Cultivation
Under glass can be grown in either a loam-based or loam-less potting compost in bright filtered light with moderate humidity and good ventilation. When in growth apply a liquid balanced fertiliser monthly. Keep just moist over winter. Overwinter indoors. See hardy fuchsia cultivation for further information
Propagation
Propagate by softwood or semi-hardwood cuttings
Suggested planting locations and garden types
Patio and container plants
Pruning
Pests
May be susceptible to aphids, fuchsia gall mite, capsid bug and vine weevil
Diseases
May be susceptible to fuchsia rust, grey moulds and honey fungus (rarely)
Get involved
The Royal Horticultural Society is the UK's leading gardening charity. We aim to enrich everyone's life through plants, and make the UK a greener and more beautiful place.