Herbaceous Perennial
Synonym
Iris sibirica 'Harpswell Happiness'
Siberian iris 'Harpswell Happiness'
an herbaceous perennial forming a compact clump of glaucous green leaves, with erect stems to 80cm in height with yellow-tinged white standards, and white falls marked light lemon-yellow at base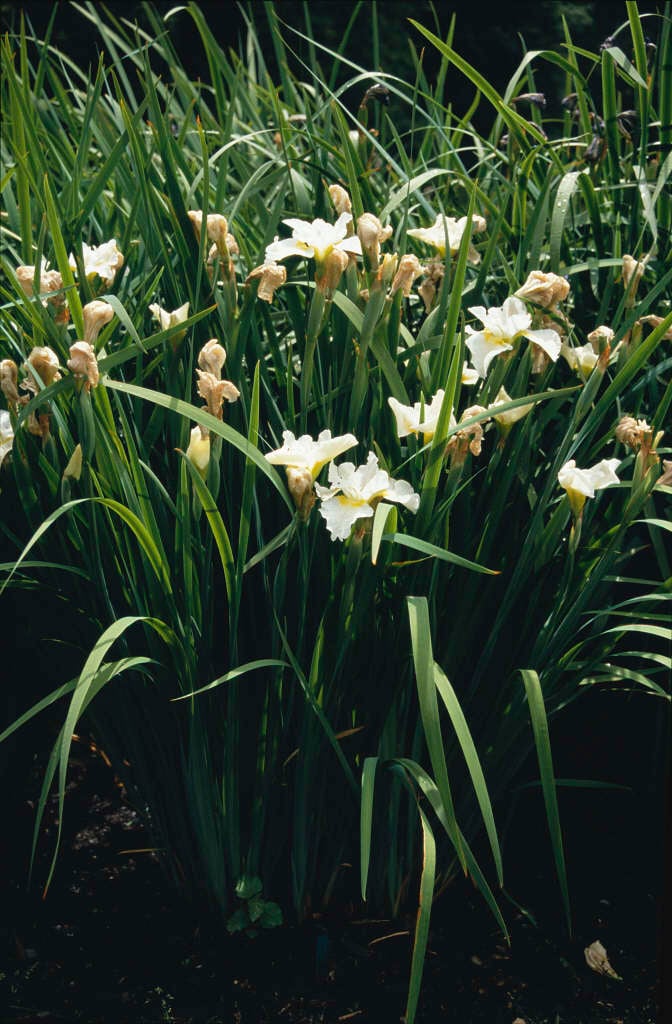 Size
Ultimate height
0.5–1 metres
Time to ultimate height
2–5 years
Ultimate spread
0.1–0.5 metres
Growing conditions
Moisture
Moist but well–drained
pH
Acid,
Alkaline,
Neutral
Stem
Flower
Foliage
Fruit
Spring

Green

Grey

Silver

Summer

White

Yellow

Green

Grey

Silver

Autumn
Winter
Position
Aspect
West–facing or South–facing or East–facing
Exposure
Exposed or
Sheltered
Botanical details
Family

Iridaceae

Native to the UK

No

Foliage

Deciduous

Habit

Clump forming

Potentially harmful

Harmful if eaten. Wear gloves and other protective equipment when handling

Genus

Iris may be rhizomatous or bulbous perennials, with narrow leaves and erect stems bearing flowers with 3 large spreading or pendent fall petals, alternating with 3 erect, often smaller, standard petals, in late winter, spring or early summer

Name status

Accepted

Horticultural Group

Sibirica irises are rhizomatous perennials, to 1.2m tall, with narrow leaves and erect stems bearing up to 5 beardless flowers 6-7cm wide in early summer. Form and colour vary considerably among cultivars
How to grow
Cultivation
Grow in any good garden soil that is preferably moist but not waterlogged. In drier soils, dig in well-rotted organic matter before planting then apply as a mulch each spring
Propagation
Propagate by division of rhizomes from midsummer to early autumn
Suggested planting locations and garden types
City and courtyard gardens
Coastal
Cottage and informal garden
Flower borders and beds
Wall side borders
Pruning
Remove any dying foliage in autumn, old flower stems can be cut down after flowering
Pests
Diseases
May be susceptible to aphid-borne viruses, bacterial soft rot and grey moulds; see Iris diseases
Get involved
The Royal Horticultural Society is the UK's leading gardening charity. We aim to enrich everyone's life through plants, and make the UK a greener and more beautiful place.