Bedding
Herbaceous Perennial
Annual Biennial
Primula 'Rainbow Scarlet Shades' (Rainbow Series) (Pr/Poly)
polyanthus 'Rainbow Scarlet Shades'
'Rainbow Scarlet Shades' is an early flowering polyanthus to 25cm in height, with bright scarlet, yellow-eyed flowers on compact plants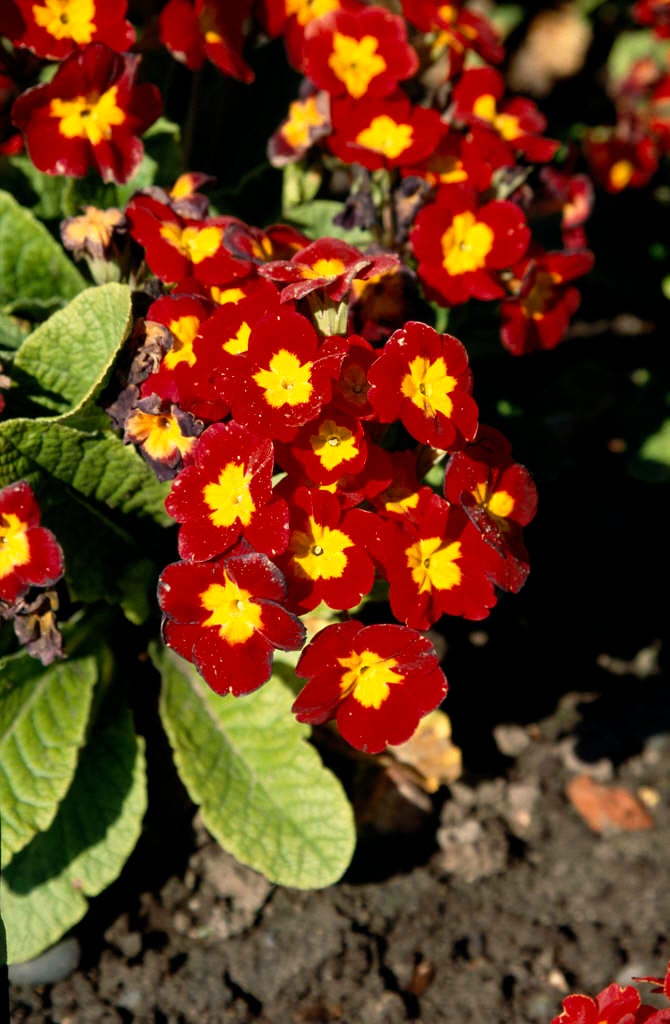 Size
Ultimate height
0.1–0.5 metres
Time to ultimate height
1–2 years
Ultimate spread
0.1–0.5 metres
Growing conditions
Moisture
Moist but well–drained
Stem
Flower
Foliage
Fruit
Spring

Green

Summer

Green

Autumn

Green

Winter

Red

Yellow

Green
Position
Aspect
South–facing or East–facing
Exposure
Exposed or
Sheltered
Botanical details
Family

Primulaceae

Native to the UK

No

Foliage

Semi evergreen

Habit

Clump forming

Genus

Primula are herbaceous or semi-evergreen perennials, forming a basal rosette of simple leaves, with salver-shaped or bell-shaped flowers which may be solitary or carried in an umbel or in whorls on an erect stem

Name status

Accepted

Horticultural Group

Polyanthus group primulas are rosette-forming perennials with umbels of salver-shaped flowers. They are usually grown as biennials by sowing seed in summer and planting out in autumn for flowers in winter and spring.
How to grow
Cultivation
Grow in fertile, humus-rich, moist but well-drained soil in full sun or partial shade, do not allow to dry out in hot weather
Propagation
Propagate by seed sown in spring
Suggested planting locations and garden types
City and courtyard gardens
Patio and container plants
Cottage and informal garden
Garden edging
Flower borders and beds
Underplanting of roses and shrubs
Pruning
Cut back after flowering
Pests
May be attacked by aphids, glasshouse red spider mite, leafhoppers, vine weevil and slugs
Diseases
May be subject to grey moulds, primula brown core and a virus
Get involved
The Royal Horticultural Society is the UK's leading gardening charity. We aim to enrich everyone's life through plants, and make the UK a greener and more beautiful place.