Clematis integrifolia (I)
solitary clematis
A deciduous, clump-forming herbaceous (non climbing) clematis to about 1-1.2m tall, with elliptical green leaves and stems topped by nodding, bell-shaped mid-blue flowers with slightly twisted outer sepals surrounding creamy-white anthers. Flowers from midsummer to early autumn, are followed by feathery, silvery seedheads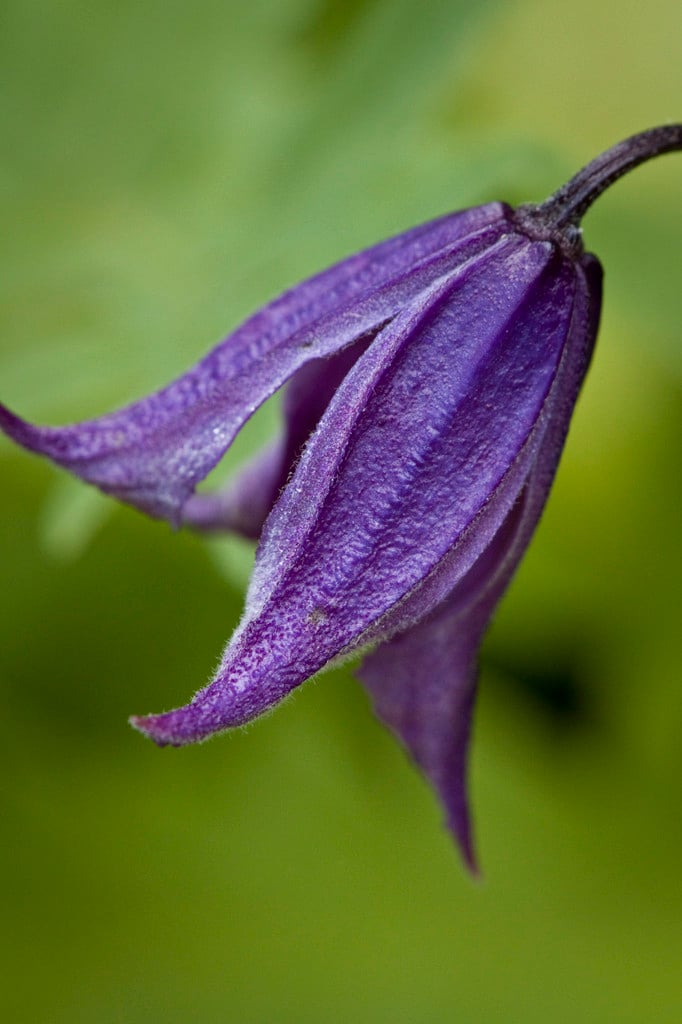 Size
Ultimate height
1–1.5 metres
Time to ultimate height
2–5 years
Ultimate spread
0.5–1 metres
Growing conditions
Moisture
Moist but well–drained
pH
Acid,
Alkaline,
Neutral
Stem
Flower
Foliage
Fruit
Spring

Green

Summer

Blue

Green

Autumn

Blue

Green

Grey

Silver

Winter
Position
Aspect
West–facing or East–facing or South–facing
Exposure
Exposed or
Sheltered
Botanical details
Family

Ranunculaceae

Native to the UK

No

Foliage

Deciduous

Habit

Clump forming

Potentially harmful

Skin irritant. Wear gloves and other protective equipment when handling

Genus

Clematis can be deciduous or evergreen shrubs or herbaceous perennials, mostly climbing by twining leaf-stalks, and often with showy flowers. Some have attractive fluffy seedheads in autumn

Name status

Correct

Horticultural Group

Integrifolia Group clematis are woody-based subshrubs with non-climbing or semi-climbing herbaceous stems, and bell-shaped or flat flowers on the current year's growth, in summer and early autumn

Plant range

C Europe to C Asia
How to grow
Cultivation
Plant in a moisture-retentive, well-drained soil, with the roots and base of the plant kept cool and shaded by other plants. Plant with the crown of the clematis level with the soil. Ideal for growing through plants in the herbaceous border or through low shrubs. See clematis cultivation for more advice
Propagation
Propagate by division or take basal softwood cuttings, in spring
Suggested planting locations and garden types
City and courtyard gardens
Coastal
Cottage and informal garden
Flower borders and beds
Underplanting of roses and shrubs
Cut flowers
Pruning
Pests
May be susceptible to aphids, snails and caterpillars; petals may be eaten by earwigs
Diseases
May be susceptible to honey fungus (rarely), clematis wilt and clematis slime flux
Get involved
The Royal Horticultural Society is the UK's leading gardening charity. We aim to enrich everyone's life through plants, and make the UK a greener and more beautiful place.