Conservatory Greenhouse
Climber Wall Shrub
Aristolochia littoralis
calico flower
An evergreen climber with twining stems bearing broadly heart-shaped, greyish leaves and curiously shaped, brownish-purple flowers 10cm long, heavily veined with creamy-white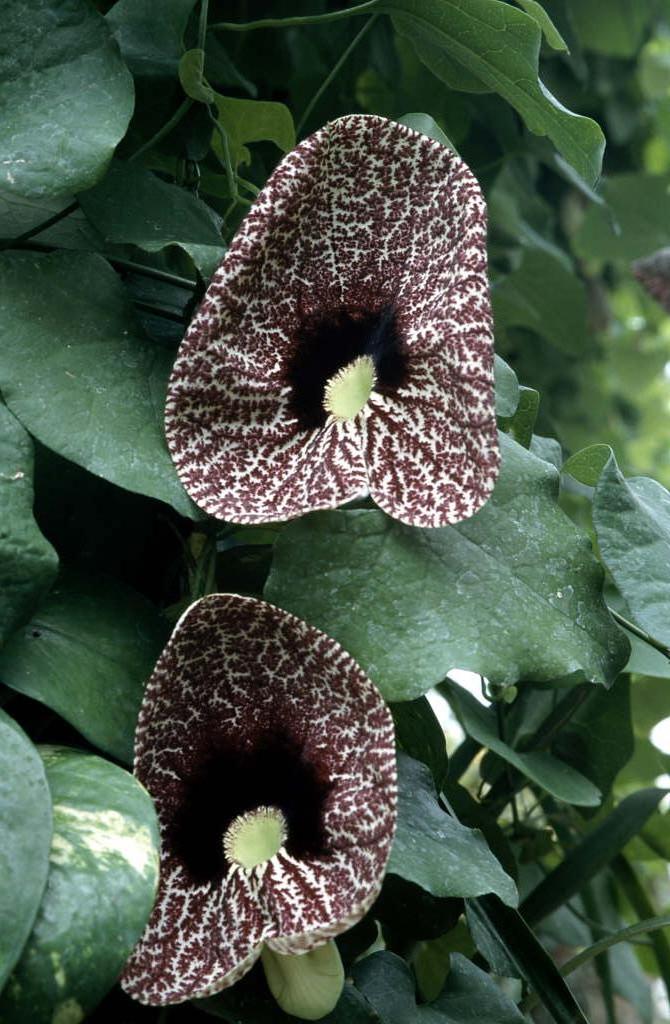 Size
Ultimate height
4–8 metres
Time to ultimate height
5–10 years
Ultimate spread
2.5–4 metres
Growing conditions
Moisture
Moist but well–drained
Stem
Flower
Foliage
Fruit
Spring

Grey

Silver

Summer

Brown

Cream

Grey

Silver

Autumn

Grey

Silver

Winter

Grey

Silver
Position
Aspect
North–facing or West–facing or East–facing
Botanical details
Family

Aristolochiaceae

Native to the UK

No

Foliage

Evergreen

Habit

Climbing

Potentially harmful

TOXIC if eaten. Wear gloves and other protective equipment when handling

Genus

Aristolochia can be shrubs or herbaceous perennials, many climbing, usually with heart-shaped or ovate leaves. Distinctive flowers have an S-shaped calyx tube and no petals, and are may be white, yellow, brown or maroon, often mottled

Name status

Correct

Plant range

S America, naturalized C America, S United States
How to grow
Cultivation
Under glass grow in loamless potting compost in bright filtered light. During the growing season water freely and apply a balanced liquid fertiliser monthly; water more sparingly in winter.
Propagation
Root softwood cuttings in early spring. Propagate by seed at 21-24°C (70-75°F) as soon as ripe or in spring.
Suggested planting locations and garden types
Pruning
Pests
Generally pest-free
Diseases
May be susceptible to honey fungus in gardens where it is present but insufficient data to determine degree of susceptibility
Get involved
The Royal Horticultural Society is the UK's leading gardening charity. We aim to enrich everyone's life through plants, and make the UK a greener and more beautiful place.