Adiantum pedatum L.
five-fingered maidenhair fern
A deciduous fern with a shortly creeping rhizome, forming a clump to 45cm tall. Wiry black stems bear branched, spreading fronds, sometimes deep pink when young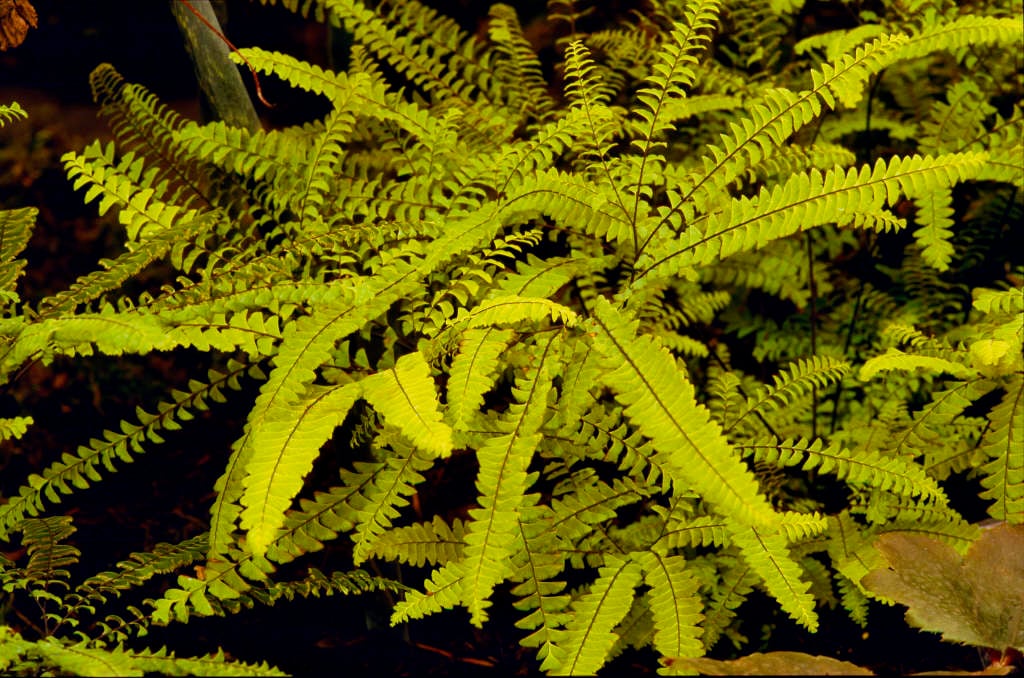 Size
Ultimate height
0.1–0.5 metres
Time to ultimate height
5–10 years
Ultimate spread
0.1–0.5 metres
Growing conditions
Moisture
Moist but well–drained
pH
Acid,
Alkaline,
Neutral
Stem
Flower
Foliage
Fruit
Spring

Pink

Green

Summer

Green

Autumn

Green

Winter
Position
Aspect
West–facing or East–facing or South–facing
Exposure
Exposed or
Sheltered
Botanical details
Family

Pteridaceae

Native to the UK

No

Foliage

Deciduous

Habit

Bushy

Genus

Adiantum can be deciduous or evergreen ferns with shiny black stalks bearing simple or more usually pinnately divided fronds, the segments fan-shaped, oblong or rounded, carrying spores under reflexed marginal flaps

Name status

Correct

Plant range

North America, E Asia
How to grow
Cultivation
Outdoors grow in moderately fertile soil. Under glass grow in a mix of 1 part each of loam, medium grade bark, charcoal and lime chippings; 2 parts sharp sand; 3 parts leaf mould. Provide bright filtered light in medium to high humidity with good ventilation. When in growth apply a half strength balanced liquid fertiliser monthly. Remove damaged fronds in spring
Propagation
Propagate by spores
Suggested planting locations and garden types
Cottage and informal garden
Low Maintenance
Flower borders and beds
Pruning
No pruning required
Pests
scale insects may be a problem under glass
Diseases
Generally disease free
Get involved
The Royal Horticultural Society is the UK's leading gardening charity. We aim to enrich everyone's life through plants, and make the UK a greener and more beautiful place.