Alpine Rockery
Herbaceous Perennial
Dodecatheon hendersonii
sailor caps
A sturdy herbaceous perennial to 45cm in height, with a basal rosette of deep green, oblong leaves and terminal umbels of pale to deep magenta-pink flowers 2cm in length, marked with yellow at base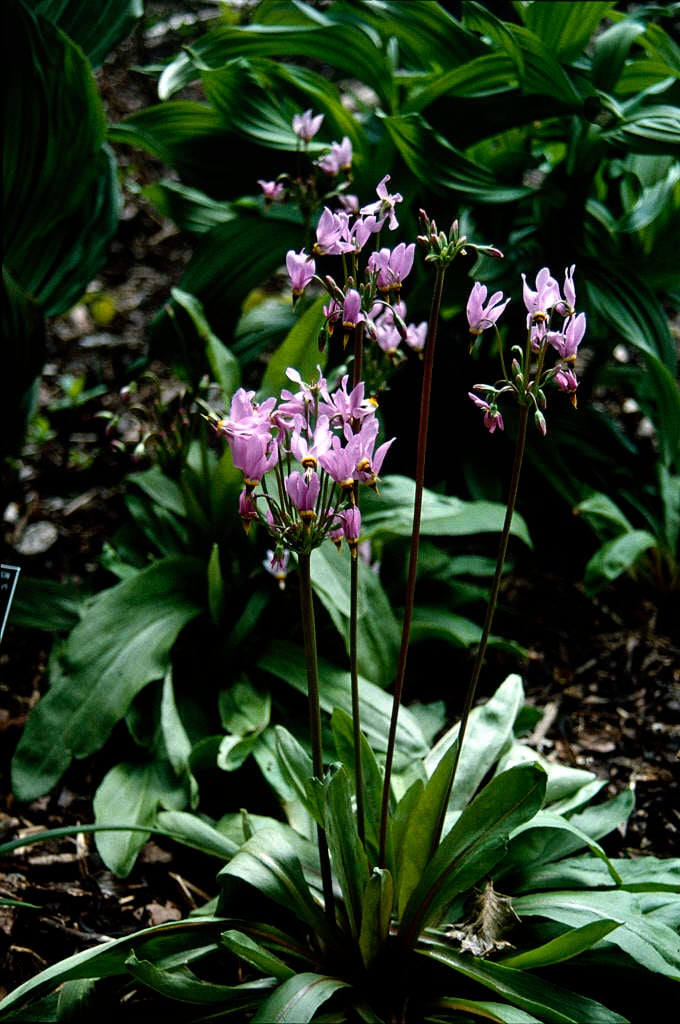 Size
Ultimate height
0.1–0.5 metres
Time to ultimate height
2–5 years
Ultimate spread
0.1–0.5 metres
Growing conditions
Moisture
Moist but well–drained
pH
Acid,
Alkaline,
Neutral
Stem
Flower
Foliage
Fruit
Spring

Green

Summer

Pink

Yellow

Green

Autumn

Green

Winter
Position
Aspect
South–facing or West–facing or East–facing
Botanical details
Family

Primulaceae

Native to the UK

No

Foliage

Deciduous

Habit

Clump forming

Genus

Dodecatheon are summer-dormant herbaceous perennials with basal rosettes of simple leaves and erect or arching stems bearing umbels of cyclamen-like flowers with strongly reflexed petals

Name status

Correct

Plant range

California
How to grow
Cultivation
Grows well in humus-rich soils with abundant moisture. Keep in a bulb frame when dormant in summer
Propagation
Propagate by seed sown as soon as ripe in containers in a coldframe or by division in spring. Seeds need cold exposure for germination
Suggested planting locations and garden types
City and courtyard gardens
Cottage and informal garden
Gravel garden
Rock garden
Flower borders and beds
Underplanting of roses and shrubs
Pruning
No pruning required
Pests
Diseases
Generally disease free
Get involved
The Royal Horticultural Society is the UK's leading gardening charity. We aim to enrich everyone's life through plants, and make the UK a greener and more beautiful place.