Dracunculus vulgaris
dragon arum
A handsomely purple-spotted stem with several leaves 30cm wide or more, the narrow lobes sometimes splashed with silver; the flower consists of a hood-like deep purple spathe to 60cm long, with a blackish-purple spadix
Other common names
brook leek

dragon

see more
dragon's female

edderwort

faverole

Indian turnip

snake plant
Synonyms
Arum
dracunculus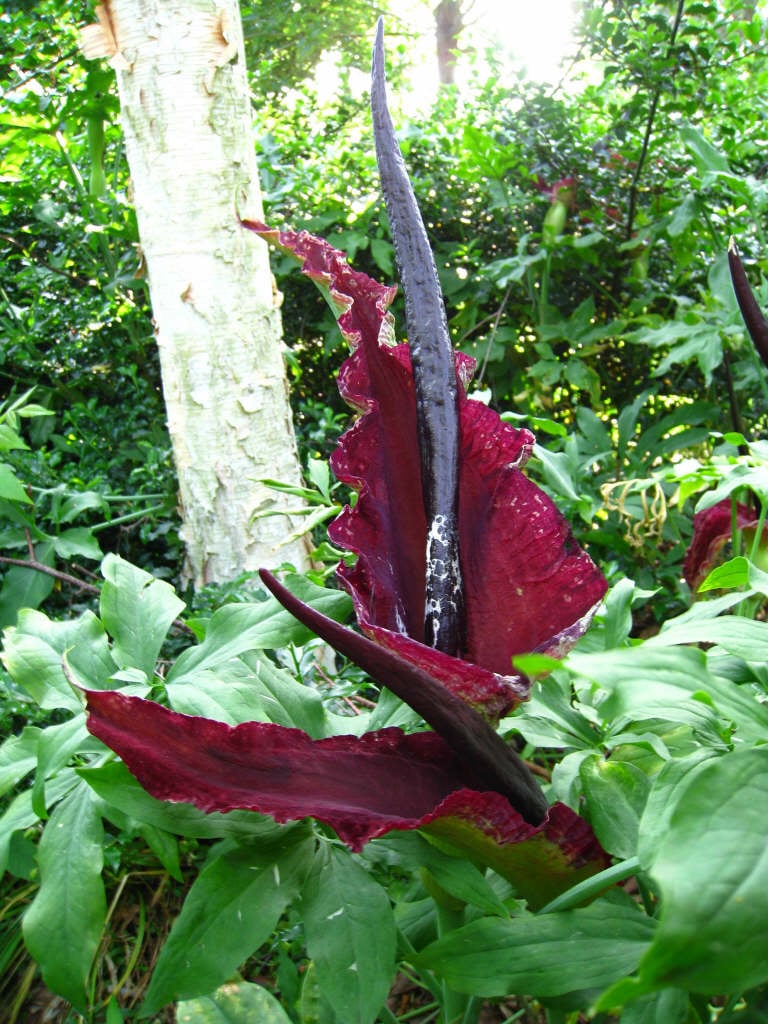 Size
Ultimate height
1–1.5 metres
Time to ultimate height
2–5 years
Ultimate spread
0.5–1 metres
Growing conditions
pH
Acid,
Alkaline,
Neutral
Stem
Flower
Foliage
Fruit
Spring

Purple

Green

Grey

Silver

Summer

Purple

Green

Grey

Silver

Autumn
Winter
Position
Aspect
South–facing or West–facing or East–facing or North–facing
Botanical details
Family

Araceae

Native to the UK

No

Foliage

Deciduous

Habit

Bushy

Potentially harmful

Harmful if eaten,

skin/eye irritant. Wear gloves and other protective equipment when handling

Genus

Dracunculus are tuberous deciduous perennials with attractive leaves divided into several narrow, finger-like segments, and dramatic, foul-smelling, arum-type flowers in spring or summer; the plant dies down after flowering

Name status

Correct

Plant range

Mediterranean
How to grow
Cultivation
Plant tubers 15cm (6in) deep in autumn or spring in humus-rich, well-drained soil that dries out in summer. Grows best in full sun but will tolerate partial shade. Protect with a dry winter mulch. Grows well in in open glades in sheltered woodland or at the base of a sunny wall. Consider the smell of the flowers when siting
Propagation
Separate offsets in autumn or spring
Suggested planting locations and garden types
Architectural
Cottage and informal garden
Banks and slopes
Flower borders and beds
Pruning
No pruning required
Pests
Generally pest-free
Diseases
Generally disease-free
Get involved
The Royal Horticultural Society is the UK's leading gardening charity. We aim to enrich everyone's life through plants, and make the UK a greener and more beautiful place.