Euphorbia cyparissias
cypress spurge
A vigorously spreading rhizomatous perennial with erect stems to 40cm tall, bearing very narrow blue-green leaves, and greenish-yellow flowers in late spring and early summer, often becoming orange with age
Other common names
Bonaparte's crown

Faitour's grass

see more
graveyard ground pine

graveyard weed

Irish moss

kiss-me-Dick

love in a huddle

tree spurge

welcome-to-our-house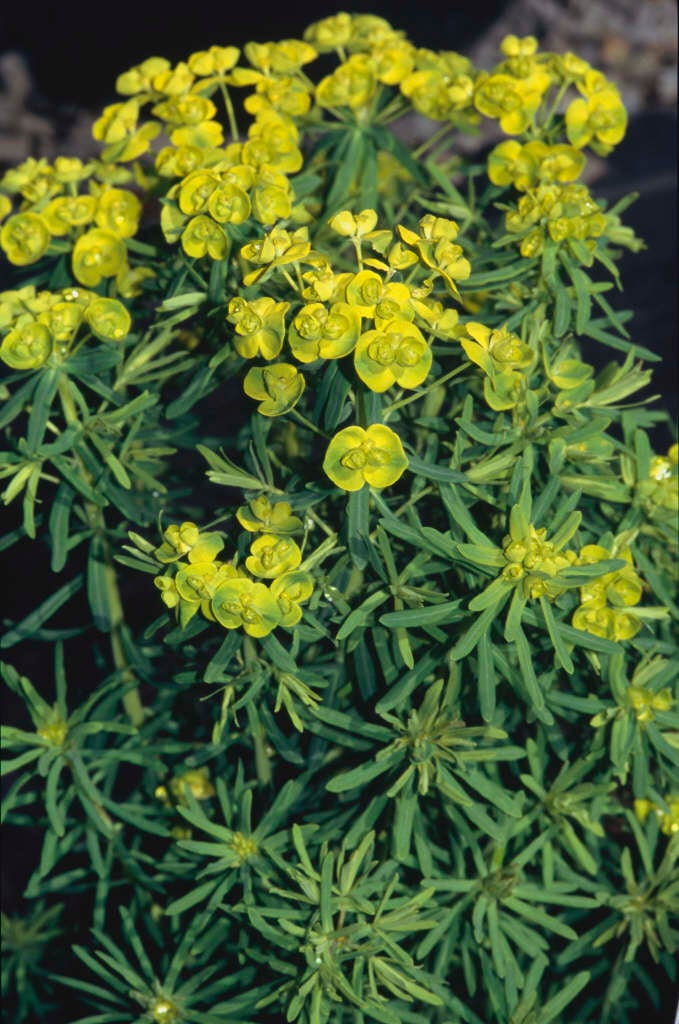 Size
Ultimate height
0.1–0.5 metres
Time to ultimate height
2–5 years
Ultimate spread
1–1.5 metres
Growing conditions
Moisture
Moist but well–drained,
Well–drained
pH
Acid,
Alkaline,
Neutral
Stem
Flower
Foliage
Fruit
Spring

Green

Orange

Yellow

Blue

Green

Summer

Green

Orange

Yellow

Blue

Green

Autumn

Blue

Green

Winter
Position
Aspect
South–facing or West–facing
Exposure
Exposed or
Sheltered
Botanical details
Family

Euphorbiaceae

Native to the UK

No

Foliage

Deciduous

Habit

Matforming

Potentially harmful

IRRITANT to skin/eye,

harmful if eaten. Wear gloves and other protective equipment when handling

Genus

Euphorbia can be annuals, perennials, shrubs or succulents, with milky sap and small flowers held within cupped, often colourful bracts

Name status

Correct

Plant range

Europe
How to grow
Cultivation
Grow in well-drained soil in full sun. May have the potential to become a nuisance if not managed well. See Euphorbia for further advice. See Euphorbia for further advice
Propagation
Propagation is by division in early spring or propagate by seed in autumn or spring
Suggested planting locations and garden types
Coastal
City and courtyard gardens
Cottage and informal garden
Flower borders and beds
Banks and slopes
Pruning
In early spring, cut back to base
Pests
Generally pest-free
Diseases
May be susceptible to a rust
Get involved
The Royal Horticultural Society is the UK's leading gardening charity. We aim to enrich everyone's life through plants, and make the UK a greener and more beautiful place.