Ananas bracteatus
red pineapple
A terrestrial bromeliad with a rosette of brownish-green, lance-shaped, evergreen leaves up to 50cm long, with upward-pointing spines. In summer produces a tight cluster of yellowish-red flowers, with red bracts, on a stout, upright stem followed by green-brown pineapples up to 15cm long which are edible but not very fleshy. Image shows Ananas bracteatus 'Tricolor'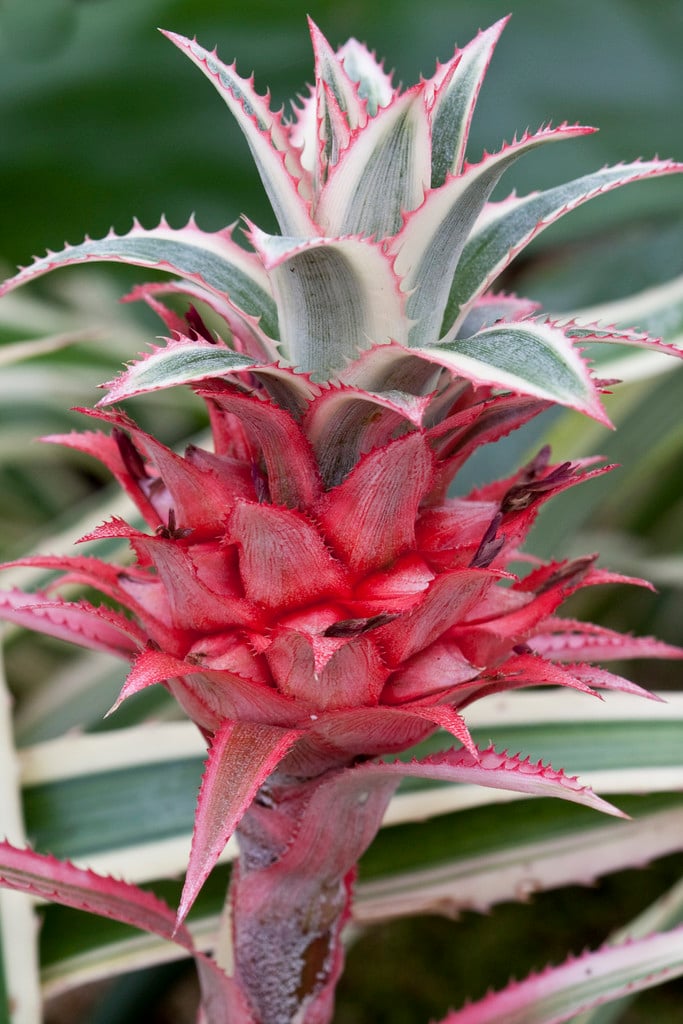 Size
Ultimate height
0.5–1 metres
Time to ultimate height
2–5 years
Ultimate spread
0.1–0.5 metres
Stem
Flower
Foliage
Fruit
Spring

Brown

Green

Summer

Red

Brown

Green

Autumn

Brown

Green

Brown

Winter

Brown

Green
Position
Aspect
South–facing or West–facing
Botanical details
Family

Bromeliaceae

Native to the UK

No

Foliage

Evergreen

Habit

Bushy

Genus

Ananas are evergreen, terrestrial bromeliads with basal rosettes of spiny-margined, lance-shaped leaves. In summer, they produce showy flowers in dense, terminal, cone-like clusters followed by fleshy, edible fruit

Name status

Correct

Plant range

Brazil to Argentina
How to grow
Cultivation
Grow in terrestrial bromeliad compost in full light, low to moderately humidity and no draughts. Water freely when growing and flowering, reduce slightly and add a balanced liquid feed weekly when in fruit, keep barely moist at other times.
Propagation
Root basal offsets in early summer, or sever the leafy rosette at the top of the fruit, allow it a day or two to callus then root it in a barely moist mix of peat or peat substitute and sand in indirect light at 21C
Suggested planting locations and garden types
Patio and container plants
Pruning
No pruning needed
Pests
Scale insects may be a problem
Diseases
Generally disease free
Get involved
The Royal Horticultural Society is the UK's leading gardening charity. We aim to enrich everyone's life through plants, and make the UK a greener and more beautiful place.