Cactus Succulent
Conservatory Greenhouse
Houseplants
Synonym
Senecio stapeliiformis
stapelioid kleinia
K. stapeliiformis is an erect succulent perennial to 30cm, with erect, fleshy, angled, glaucous stems and solitary thistle-like bright red to orange flowers heads in summer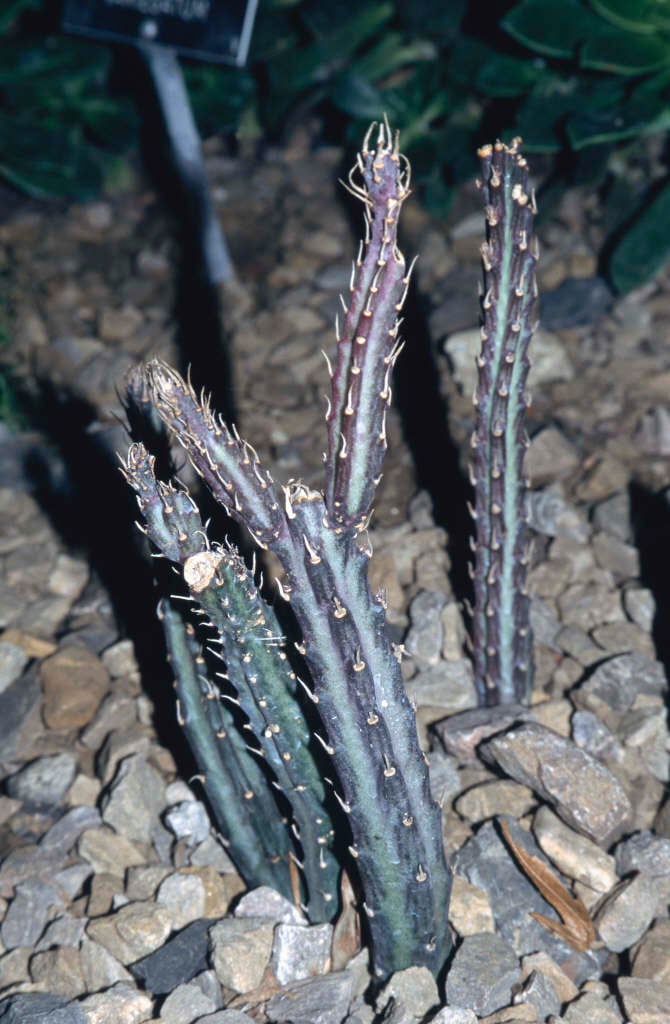 Size
Ultimate height
0.1–0.5 metres
Time to ultimate height
5–10 years
Ultimate spread
0.1–0.5 metres
Growing conditions
pH
Acid,
Alkaline,
Neutral
Stem
Flower
Foliage
Fruit
Spring

Green

Grey

Silver

Summer

Orange

Red

Green

Grey

Silver

Autumn

Green

Grey

Silver

Winter

Green

Grey

Silver
Position
Aspect
North–facing or South–facing or East–facing
Botanical details
Family

Asteraceae

Native to the UK

No

Foliage

Evergreen

Habit

Bushy

Genus

Kleinia are succulent perennials with prostrate or upright, cylindrical or angular stems bearing fleshy, flat or cylindrical leaves and solitary or clustered, thistle-like flowerheads in summer

Name status

Correct

Plant range

S Africa (Transvaal)
How to grow
Cultivation
Grow under glass in a mixture of 2 parts leaf mould to 1 part each of loam and gritty sand in bright filtered light. During the growing season feed 2 or 3 times with a low nitrogen liquid fertilizer and water moderately. Keep dry at other times
Propagation
Propagate by seed sown at 19 - 21°C in early spring or by cuttings
Suggested planting locations and garden types
Patio and container plants
Low Maintenance
Pruning
No pruning required
Pests
Scale insects may be a problem
Diseases
Generally disease free
Get involved
The Royal Horticultural Society is the UK's leading gardening charity. We aim to enrich everyone's life through plants, and make the UK a greener and more beautiful place.