Osmunda regalis Cristata Group
royal fern 'Cristata'
'Cristata' is a robust deciduous fern, slowly forming a massive clump, with fronds bipinnately divided, the fronds, pinnae and pinnules forked or crested at the tips; fertile fronds are tipped with rusty-brown spore-bearing segments in summer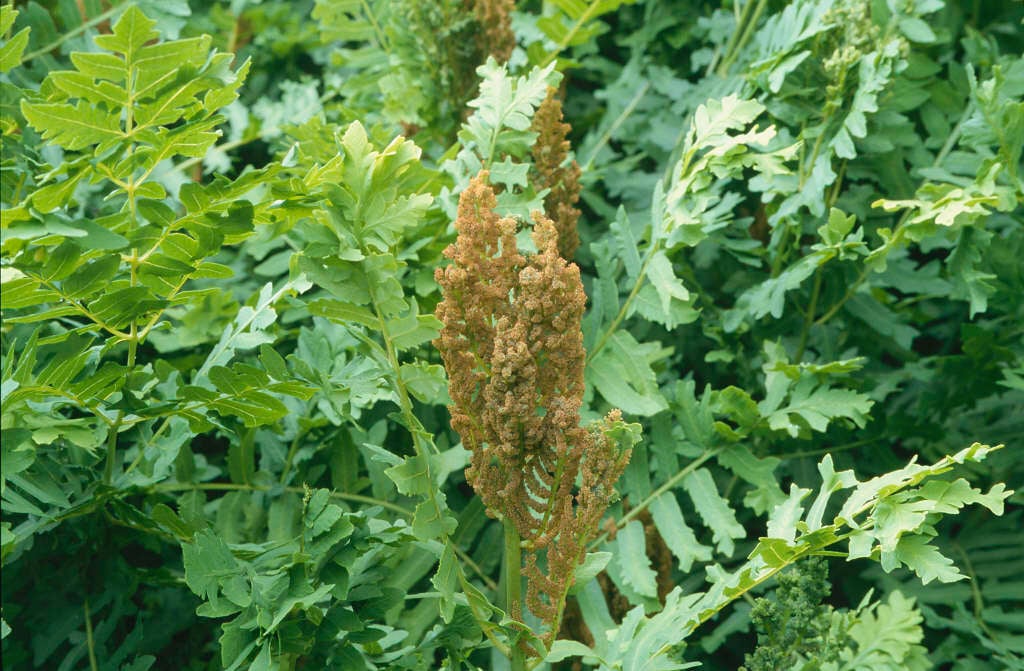 Size
Ultimate height
1–1.5 metres
Time to ultimate height
5–10 years
Ultimate spread
1–1.5 metres
Growing conditions
Moisture
Moist but well–drained,
Poorly–drained
pH
Acid,
Alkaline,
Neutral
Stem
Flower
Foliage
Fruit
Spring

Green

Summer

Green

Autumn

Brown

Red

Winter
Position
Aspect
South–facing or North–facing or East–facing or West–facing
Exposure
Exposed or
Sheltered
Botanical details
Family

Osmundaceae

Native to the UK

No

Foliage

Deciduous

Habit

Bushy

Genus

Osmunda are medium-sized to large deciduous ferns, usually from wet places, with erect or arching, pinnate or bipinnate fronds, bearing spores either on modified pinnae or on separate, smaller fronds

Name status

Accepted
How to grow
Cultivation
Easy to grow in most cool, moist, lightly shaded sites and will grow in full sun if given plenty of moisture. Will tolerate alkaline soils if plenty of fibrous compost is incorporated. Useful for very wet sites
Propagation
Propagate by division in early spring or autumn
Suggested planting locations and garden types
City and courtyard gardens
Cottage and informal garden
Flower borders and beds
Pruning
Dead or damaged fronds may be removed as necessary
Pests
Generally pest-free outdoors
Diseases
Generally disease free outdoors
Get involved
The Royal Horticultural Society is the UK's leading gardening charity. We aim to enrich everyone's life through plants, and make the UK a greener and more beautiful place.