Elymus repens
couch grass
A fast-growing perennial grass with pale, hairy sheaths on the lower leaves and flat green leaf blades to 40cm long. Produces upright flower spikes to 120cm high in late summer. Each plant forms a dense network of pale yellow or straw-coloured rhizomatous roots, that enable it to spread rapidly in lawns and borders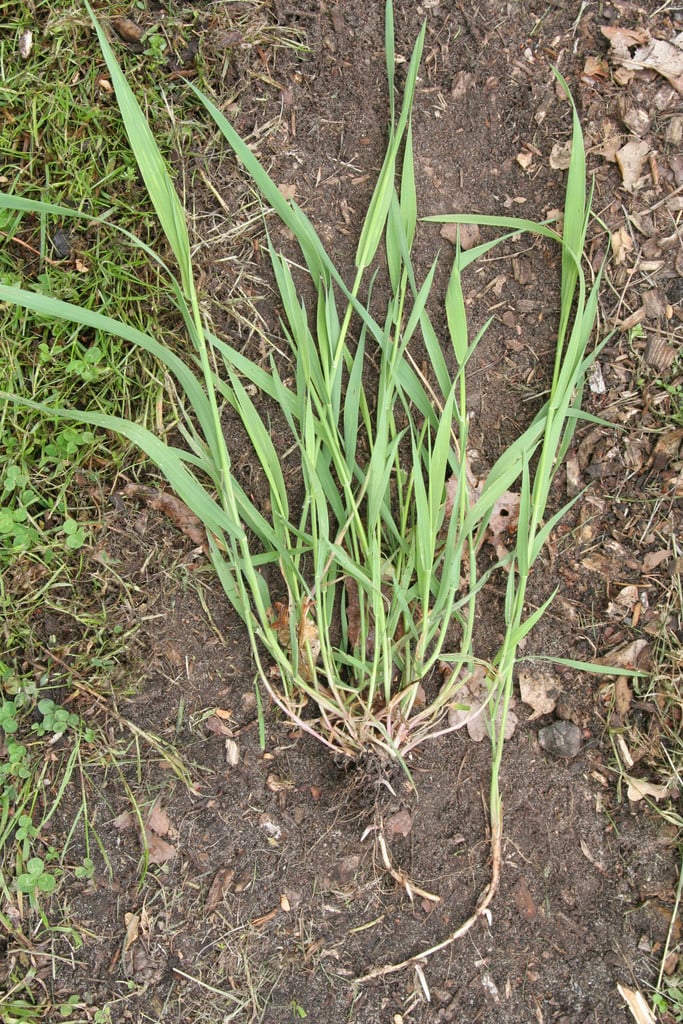 Size
Ultimate height
1–1.5 metres
Time to ultimate height
1 year
Ultimate spread
0.5–1 metres
Growing conditions
Moisture
Moist but well–drained,
Well–drained,
Poorly–drained
pH
Acid,
Alkaline,
Neutral
| | | | | |
| --- | --- | --- | --- | --- |
| | Stem | Flower | Foliage | Fruit |
| Spring | | | Green | |
| Summer | | | Green | |
| Autumn | | | Green | |
| Winter | | | | |
Position
Aspect
East–facing or South–facing or West–facing or North–facing
Exposure
Exposed or
Sheltered
Botanical details
Family

Poaceae

Native to the UK

No

Foliage

Deciduous

Habit

Clump forming

Genus

Elymus can be tufted or rhizomatous perennial grasses, with linear, deciduous leaves, sometimes attractively coloured, and flattened flower spikes in summer and autumn

Name status

Correct

Plant range

Temp. N. Hemisphere
How to grow
Cultivation
Growth begins early in spring, which can allow this plant to out-compete others that may need warmer temperatures; because of this and its ability to spread rapidly underground, it is often considered a weed. Roots are fairly shallow, so forking out may be possible in lighter soils, though any remaining fragments of rhizome may re-grow
Propagation
Propagates predominantly by spreading rhizomes (underground roots), although seed is also produced and can remain viable in the soil for some years
Suggested planting locations and garden types
Pruning
Cutting can encourage tillering
Pests
Generally pest-free
Diseases
Generally disease-free
Get involved
The Royal Horticultural Society is the UK's leading gardening charity. We aim to enrich everyone's life through plants, and make the UK a greener and more beautiful place.