Erythronium multiscapideum
Sierra fawn lily
A bulbous herbaceous perennial 15-35cm high with elliptic leaves, 3.5-10cm long, which are dark green lightly mottled with brown and which die down in summer, a flower stem which branches at or just below ground level, and red-flushed buds that open into creamy-white flowers, 4-6cm across, with white anthers and yellow or yellowish green centres, in spring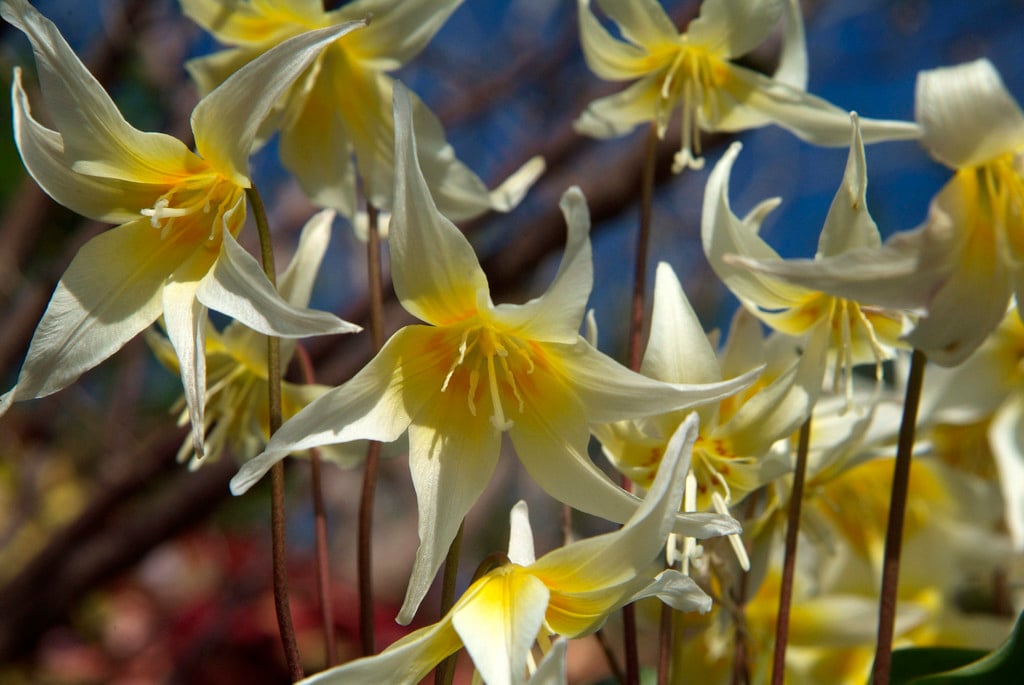 Size
Ultimate height
0.1–0.5 metres
Time to ultimate height
2–5 years
Ultimate spread
0.1–0.5 metres
Growing conditions
Moisture
Moist but well–drained
pH
Acid,
Alkaline,
Neutral
Stem
Flower
Foliage
Fruit
Spring

Cream

Green

White

Yellow

Brown

Green

Summer

Brown

Green

Autumn
Winter
Position
Aspect
South–facing or East–facing or West–facing
Botanical details
Family

Liliaceae

Native to the UK

No

Foliage

Deciduous

Habit

Clump forming

Potentially harmful

Ornamental bulbs - not to be eaten. Wear gloves and other protective equipment when handling

Genus

Erythronium are bulbous perennials with paired, ovate or broadly elliptic leaves, and leafless stems bearing one or more nodding, star-shaped flowers with recurved petals

Name status

Correct

Plant range

USA (California)
How to grow
Cultivation
Plant bulbs in autumn, at least 10cm deep, in fertile, humus-rich, well-drained soil that does not dry out, in light dappled or partial shade, for example in a woodland garden, and mulch each year with leafmould; keep bulbs slightly damp during storage and before planting. See bulb cultivation
Propagation
Propagate by division of established clumps after flowering; re-plant immediately to make sure the bulbs do not dry out
Suggested planting locations and garden types
Cottage and informal garden
Low Maintenance
Flower borders and beds
Underplanting of roses and shrubs
Pruning
No pruning required
Pests
May be susceptible to slugs
Diseases
May be susceptible to grey moulds and rust diseases but generally disease-free
Get involved
The Royal Horticultural Society is the UK's leading gardening charity. We aim to enrich everyone's life through plants, and make the UK a greener and more beautiful place.