Orchis mascula
early purple orchid
O. mascula is a terrestrial orchid with leaves usually spotted with deep purple, and dense, upright spikes of small, intricate, light to dark purple flowers from spring to early summer
Other common names
Aaron's beard

Adam-and-Eve

see more
adder's grass

ballock grass

bloody man's finger

blue butcher

bullock grass

crake feet

cuckooflower

cuckooflower orchid

dead man's finger

dead man's fingers

dead man's thumb

Gethsemane

hand orchid

keat legs

keat's legs

kite pan

kite's legs

long purples

May orchid

purple orchid

purple wreathwort

ram's horns

satyricon

spotted orchid
Synonyms
Dactylorhiza
mascula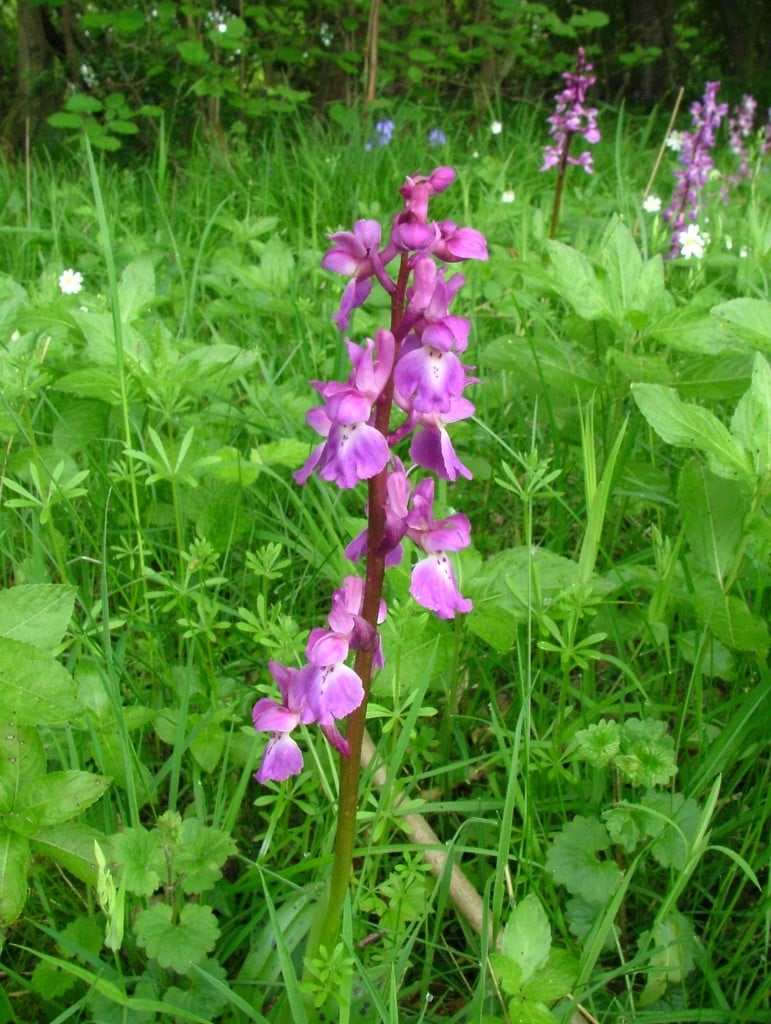 Size
Ultimate height
0.1–0.5 metres
Time to ultimate height
2–5 years
Ultimate spread
0.1–0.5 metres
Growing conditions
Moisture
Moist but well–drained
pH
Acid,
Alkaline,
Neutral
Stem
Flower
Foliage
Fruit
Spring

Purple

Purple

Green

Summer

Purple

Purple

Green

Autumn
Winter
Position
Aspect
East–facing or West–facing
Exposure
Exposed or
Sheltered
Botanical details
Family

Orchidaceae

Native to the UK

Yes

Foliage

Deciduous

Habit

Columnar upright

Genus

Orchis are tuberous, terrestrial orchids with rosettes of light to dark green leaves, sometimes purple-spotted, and dense, upright spikes of delicate, purple, red, pink, green, yellow or white flowers

Name status

Correct

Plant range

Europe, Africa, Asia
How to grow
Cultivation
Grows best in fertile, moist, humus-rich soil in partial shade, though tolerates full sun in cooler areas. Plant dormant tubers in autumn at least 8cm deep
Propagation
Propagate by separating offsets in spring
Suggested planting locations and garden types
Cottage and informal garden
Wildflower meadow
Wildlife gardens
Flower borders and beds
Pests
Diseases
Generally disease free
Get involved
The Royal Horticultural Society is the UK's leading gardening charity. We aim to enrich everyone's life through plants, and make the UK a greener and more beautiful place.