Phytolacca americana
American pokeweed
P. americana is an upright herbaceous perennial with oval or lance-shaped mid-green leaves, tinged with purple in autumn. White-pink flowers appear in racemes from mid-summer to early autumn, followed by crimson-black berries in autumn
Other common names
American nightshade

cancer jalap

see more
chon grass

coakum

cokan

crimson-berry plant

crowberry

dyer's grapes

garget

inkberry

pigeon berry

poke

poke root

poke salad

pokeberry

pokeweed

red ink plant

red weed

scoke

skoke

Virginian poke

Virginian pokeweed
Synonyms
Phytolacca
decandra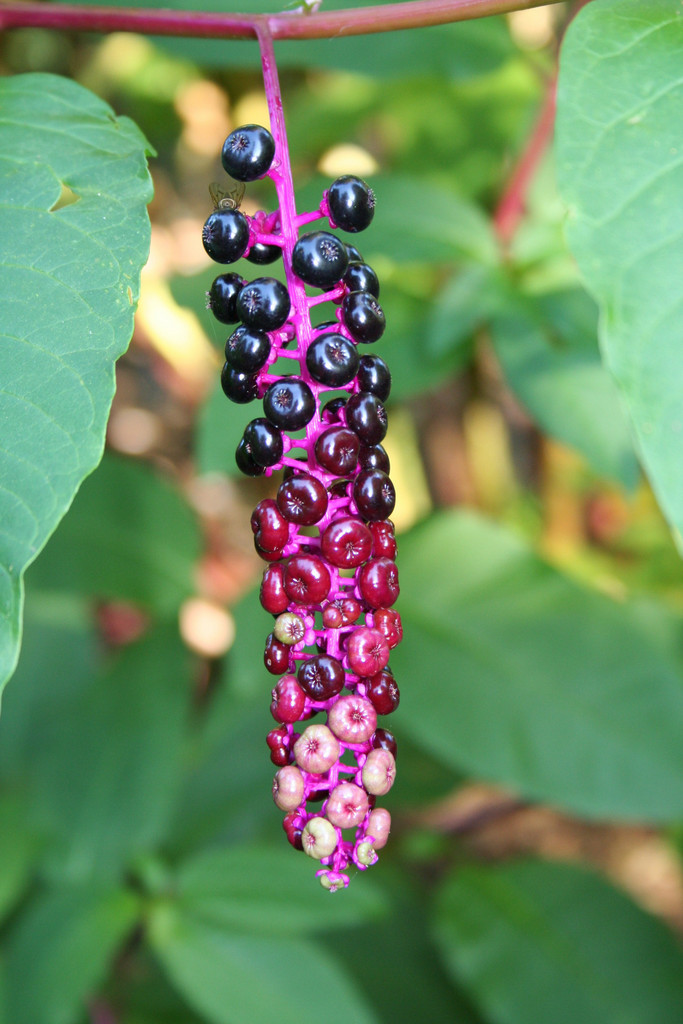 Size
Ultimate height
2.5–4 metres
Time to ultimate height
2–5 years
Ultimate spread
1–1.5 metres
Growing conditions
Moisture
Moist but well–drained
pH
Acid,
Alkaline,
Neutral
Stem
Flower
Foliage
Fruit
Spring

Green

Red

Green

Summer

Green

Red

Pink

White

Green

Autumn

Pink

White

Green

Purple

Black

Purple

Winter
Position
Aspect
South–facing or West–facing or East–facing
Botanical details
Family

Phytolaccaceae

Native to the UK

No

Foliage

Deciduous

Habit

Columnar upright

Potentially harmful

TOXIC if eaten. Wear gloves and other protective equipment when handling

Genus

Phytolacca are herbaceous perennials, shrubs or trees, with simple leaves, small flowers in erect or drooping spike-like racemes are followed by glossy, fleshy fruits

Name status

Correct

Plant range

USA
How to grow
Cultivation
Grow in any fertile moist soil in sun or partial shade
Propagation
Propagate by seed in early spring
Suggested planting locations and garden types
Cottage and informal garden
Pruning
No pruning required
Pests
Generally pest-free
Diseases
May be susceptible to virus diseases
Get involved
The Royal Horticultural Society is the UK's leading gardening charity. We aim to enrich everyone's life through plants, and make the UK a greener and more beautiful place.