Aralia cordata Thunb.
Japanese spikenard
A spreading, suckering perennial, up to 2.5m tall and wide, with large, pinnate leaves that emerge golden-green in spring, maturing to bright green in summer. Small white flowers are borne in large umbels, up to 45cm across, in late summer and are followed by inedible purple fruits
Synonyms
Aralia
edulis
Aralia nudicaulis Blume

see more
Aralia
taiwaniana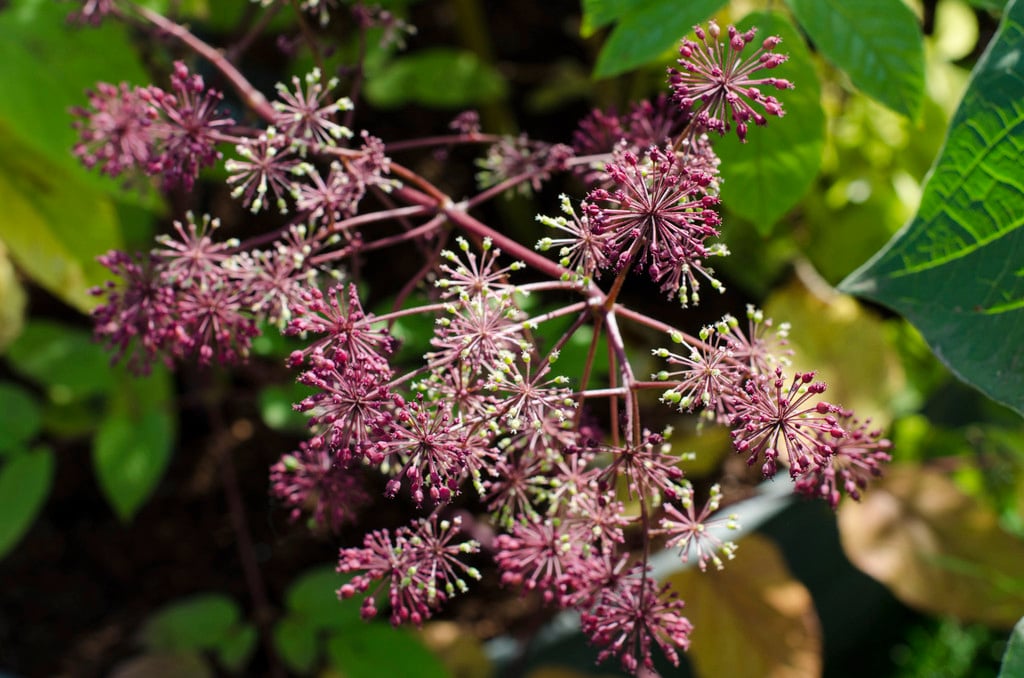 Size
Ultimate height
1.5–2.5 metres
Time to ultimate height
2–5 years
Ultimate spread
1.5–2.5 metres
Growing conditions
Moisture
Moist but well–drained
Stem
Flower
Foliage
Fruit
Spring

Gold

Green

Summer

White

Green

Autumn

Green

Purple

Winter
Position
Aspect
North–facing or West–facing or East–facing or South–facing
Botanical details
Family

Araliaceae

Native to the UK

No

Foliage

Deciduous

Habit

Suckering

Genus

Aralia can be deciduous trees, shrubs or perennials, with large, simple or pinnately compound leaves and tiny greenish-white flowers in large terminal clusters, followed by small black fruits

Name status

Correct

Plant range

China Japan
How to grow
Cultivation
Grows best in a moist, neutral to acidic soil in partial shade but will tolerate full shade, or full sun if kept watered
Propagation
Propagates readily from suckers or propagate by seed
Suggested planting locations and garden types
Low Maintenance
Flower borders and beds
Pruning
No pruning required
Pests
May be susceptible to aphids
Diseases
May be susceptible to honey fungus in gardens where it is present but insufficient data to determine degree of susceptibility
Get involved
The Royal Horticultural Society is the UK's leading gardening charity. We aim to enrich everyone's life through plants, and make the UK a greener and more beautiful place.