Cotoneaster bullatus
hollyberry cotoneaster
A large deciduous shrub with deeply-veined ovate leaves turning red and orange in autumn. Flowers small, pale pink in early summer, followed by relatively large, bright red berries which colour early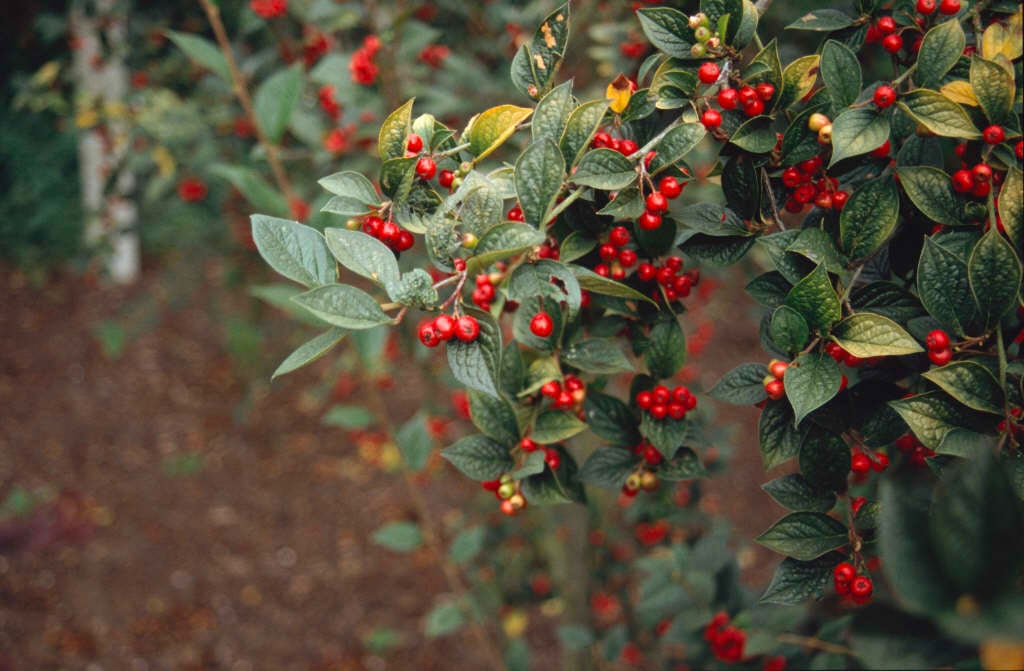 Size
Ultimate height
2.5–4 metres
Time to ultimate height
10–20 years
Ultimate spread
2.5–4 metres
Growing conditions
pH
Acid,
Alkaline,
Neutral
Stem
Flower
Foliage
Fruit
Spring

Green

Summer

Pink

Green

Red

Autumn

Orange

Red

Red

Winter
Position
Aspect
South–facing or West–facing or East–facing
Exposure
Exposed or
Sheltered
Botanical details
Family

Rosaceae

Native to the UK

No

Foliage

Deciduous

Habit

Bushy

Potentially harmful

Fruit are ornamental - not to be eaten. Wear gloves and other protective equipment when handling

Genus

Cotoneaster can be deciduous or evergreen shrubs or small trees, with simple, entire leaves and clusters of small white or pink flowers in spring and summer, followed by showy red, purple or black berries

Name status

Correct

Plant range

China (Sichuan)
How to grow
Cultivation
This plant is listed on Schedule 9 of the UK Wildlife & Countryside Act as an invasive non-native species. Although not banned from sale, it is an offence to plant or cause these to grow in the wild IN ENGLAND AND WALES. Gardeners possessing them should undertake measures to control them. See RHS advice on invasive non-native species for further information
Propagation
Please see cultivation notes
Suggested planting locations and garden types
Cottage and informal garden
Flower borders and beds
Cut flowers
Pruning
Pruning group 1 or pruning group 13 for wall-trained specimens
Pests
May be susceptible to scale insects and woolly aphids
Diseases
May be subject to fireblight and honey fungus
Get involved
The Royal Horticultural Society is the UK's leading gardening charity. We aim to enrich everyone's life through plants, and make the UK a greener and more beautiful place.