Androsace sarmentosa subsp. primuloides
rock jasmine
A mat-forming, evergreen perennial spreading by stolons. The rosettes are covered in silky hairs, and appear more silvery over winter. The flowers are a deep, rich pink with a small yellow eye, borne in generous clusters on red stems in spring
Synonyms
Androsace
primuloides
Androsace
studiosorum
see more
Androsace primuloides hort.

Androsace sarmentosa var. yunnanensis misapplied

Androsace sarmentosa misapplied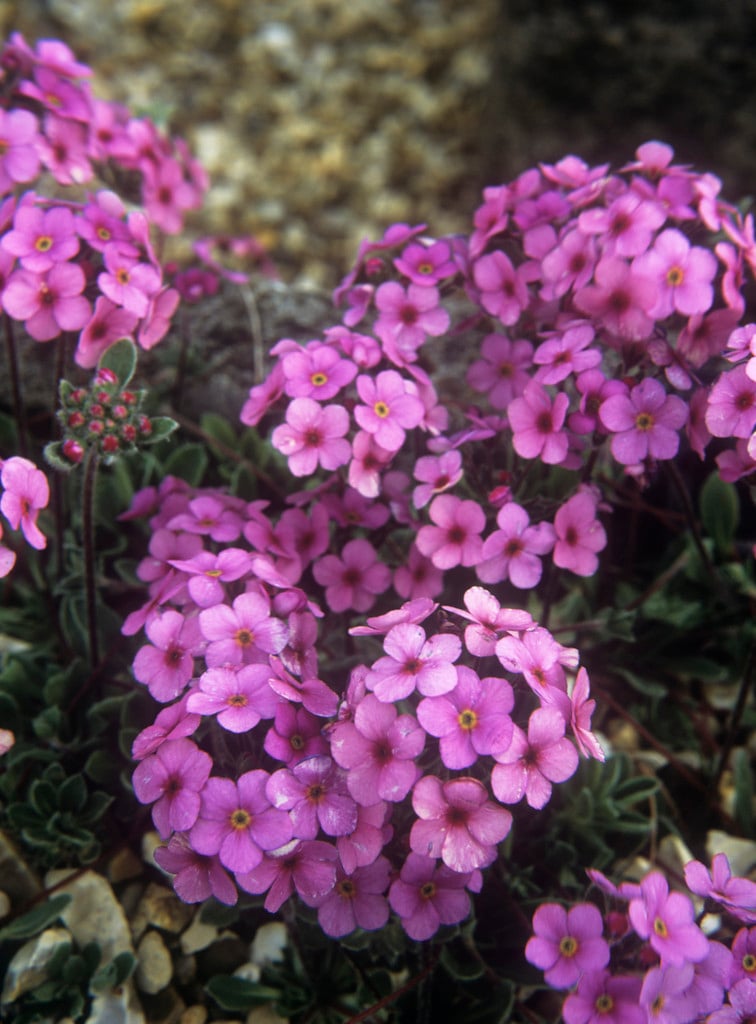 Size
Ultimate height
Up to 10cm
Time to ultimate height
2–5 years
Ultimate spread
0.1–0.5 metres
Growing conditions
Moisture
Moist but well–drained
pH
Acid,
Alkaline,
Neutral
Stem
Flower
Foliage
Fruit
Spring

Red

Pink

Grey

Silver

Summer

Grey

Silver

Autumn

Grey

Silver

Winter

Grey

Silver
Position
Aspect
South–facing or West–facing
Exposure
Exposed or
Sheltered
Botanical details
Family

Primulaceae

Native to the UK

No

Foliage

Evergreen

Habit

Matforming

Genus

Androsace can be annuals, biennials or evergreen perennials forming mats or compact cushions, with salver-shaped flowers which may be solitary or in umbels

Name status

Correct

Plant range

Himalaya
How to grow
Cultivation
Grow in a scree bed, in vertical crevices in rock or in moist but gritty, well-drained soil
Propagation
Propagate by seed sown in containers in an open cold frame as soon as ripe, or in autumn. Root single rosettes as cuttings in early to mid summer. Keep moist but water from below to avoid wetting the rosettes
Suggested planting locations and garden types
Patio and container plants
Rock garden
Gravel garden
Pruning
No pruning required
Pests
Generally pest-free. Prone to aphids under glass
Diseases
Vulnerable to fungal disease in damp conditions. Remove dead rosettes to reduce the risk of infection
Get involved
The Royal Horticultural Society is the UK's leading gardening charity. We aim to enrich everyone's life through plants, and make the UK a greener and more beautiful place.