Asclepias incarnata
swamp milkweed
A thick-stemmed perennial with dense stems and narrow, mid-green leaves up to 15cm long. Clusters of dark purplish-pink flowers are produced from the upper part of the stems from mid-summer to early autumn, followed by narrow, upright seed pods up to 7cm long, green at first then turning pale brown before splitting to release the seeds with their parachutes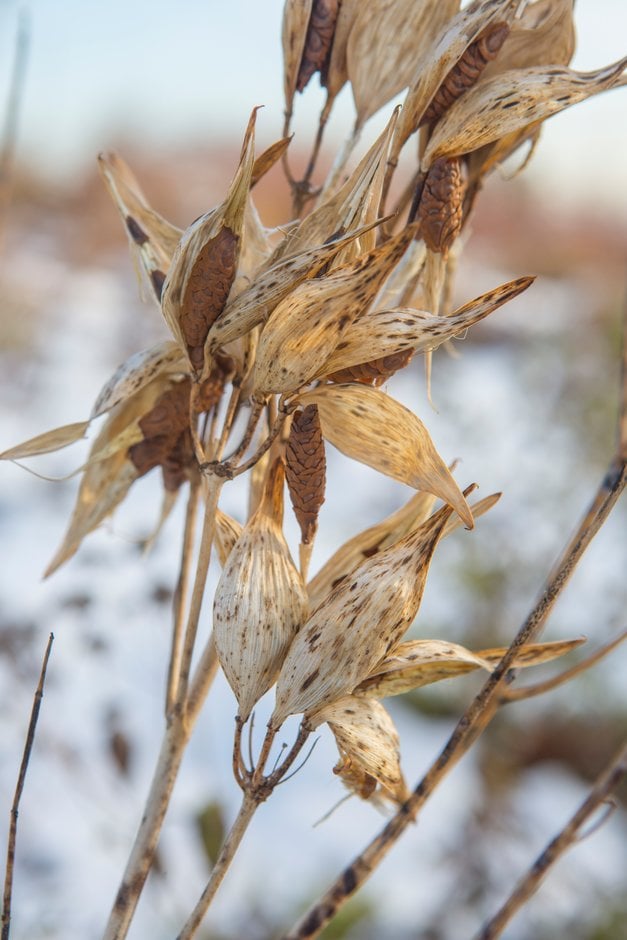 Size
Ultimate height
1–1.5 metres
Time to ultimate height
2–5 years
Ultimate spread
0.1–0.5 metres
Growing conditions
Moisture
Moist but well–drained,
Poorly–drained
pH
Acid,
Alkaline,
Neutral
Stem
Flower
Foliage
Fruit
Spring

Green

Summer

Pink

Green

Autumn

Pink

Green

Green

Brown

Winter
Position
Aspect
South–facing or West–facing
Botanical details
Family

Apocynaceae

Native to the UK

No

Foliage

Deciduous

Habit

Bushy

Potentially harmful

Harmful if eaten. Wear gloves and other protective equipment when handling

Genus

Asclepias can be evergreen or deciduous perennials or subshrubs, with simple, entire leaves and umbel-like clusters of small, distinctively shaped flowers followed by paired fruits containing seeds embedded in silky fibres

Name status

Correct

Plant range

NE & SE USA
How to grow
Cultivation
Grow outdoors in moist, fertile, loamy soil in full sun. Will thrive near a pond or stream
Propagation
Propagate by seed or by division, or root basal cuttings in spring
Suggested planting locations and garden types
Cottage and informal garden
Prairie planting
Pruning
No pruning required
Pests
Generally pest-free
Diseases
Generally disease-free
Get involved
The Royal Horticultural Society is the UK's leading gardening charity. We aim to enrich everyone's life through plants, and make the UK a greener and more beautiful place.