Pinus coulteri
big-cone pine
A large evergreen tree with a broad, open crown. Stout shoots bear thick, blue-grey needles up to 35cm long, in bundles of three. Massive pale brown cones to 30cm long, with a spine on each scale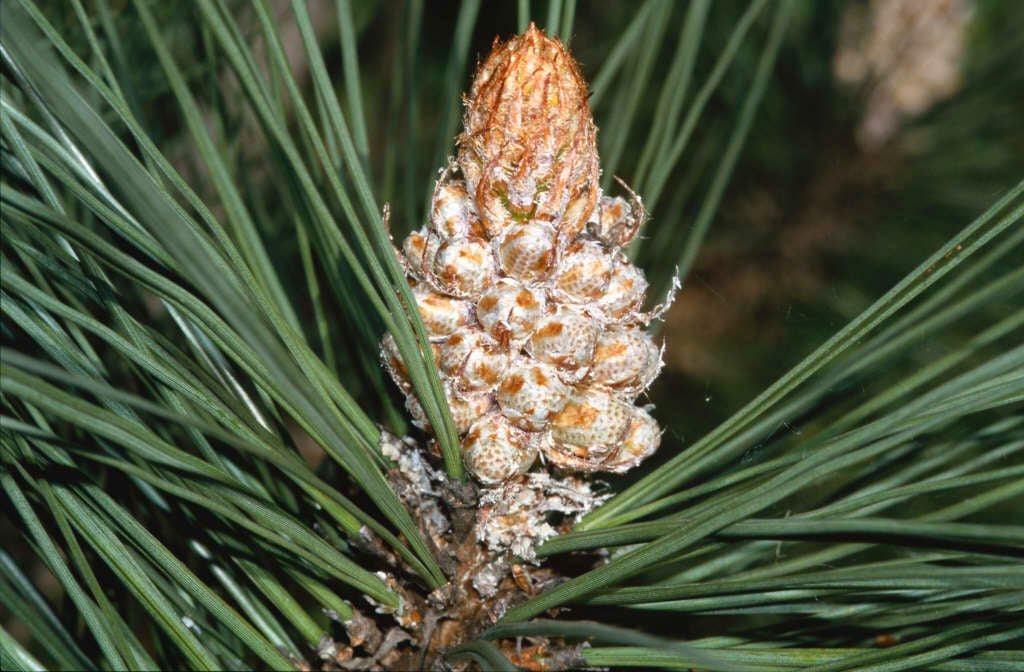 Size
Ultimate height
Higher than 12 metres
Time to ultimate height
more than 50 years
Ultimate spread
Wider than 8 metres
Growing conditions
pH
Acid,
Alkaline,
Neutral
Stem
Flower
Foliage
Fruit
Spring

Yellow

Blue

Grey

Silver

Summer

Blue

Grey

Silver

Autumn

Blue

Grey

Silver

Winter

Blue

Grey

Silver

Brown
Position
Aspect
South–facing
Exposure
Exposed or
Sheltered
Botanical details
Family

Pinaceae

Native to the UK

No

Foliage

Evergreen

Habit

Bushy,

Columnar upright

Genus

Pinus can be shrubs or large, evergreen trees, some species with attractive bark, developing an irregular outline with age and bearing long needle-like leaves in bundles of 2, 3 or 5; conspicuous cones may fall or remain on the tree for years

Name status

Correct

Plant range

W California to Mexico
How to grow
Cultivation
Grow in any well drained soil in full sun. See Trees: buying and planting specimens
Propagation
Propagate by seed sown in containers in a cold frame in late winter. Retain in pots for at least two years
Suggested planting locations and garden types
Pruning
Generally no pruning required. Remove competing leaders and, on older trees, crown lift by removing some of the lower branches
Pests
May be susceptible to adelgids, conifer aphid, sawfly larvae, and pine shoot moth
Diseases
May be susceptible to honey fungus and needle cast diseases
Get involved
The Royal Horticultural Society is the UK's leading gardening charity. We aim to enrich everyone's life through plants, and make the UK a greener and more beautiful place.