Epimedium davidii
David's barrenwort
A deciduous perennial, to 30cm in height and 45cm spread, with bronze-tinted, toothed foliage in spring turning light green when mature. Yellow, long-spurred flowers, 2cm in width, open beneath russet-brown sepals which are carried on coral-red stems in spring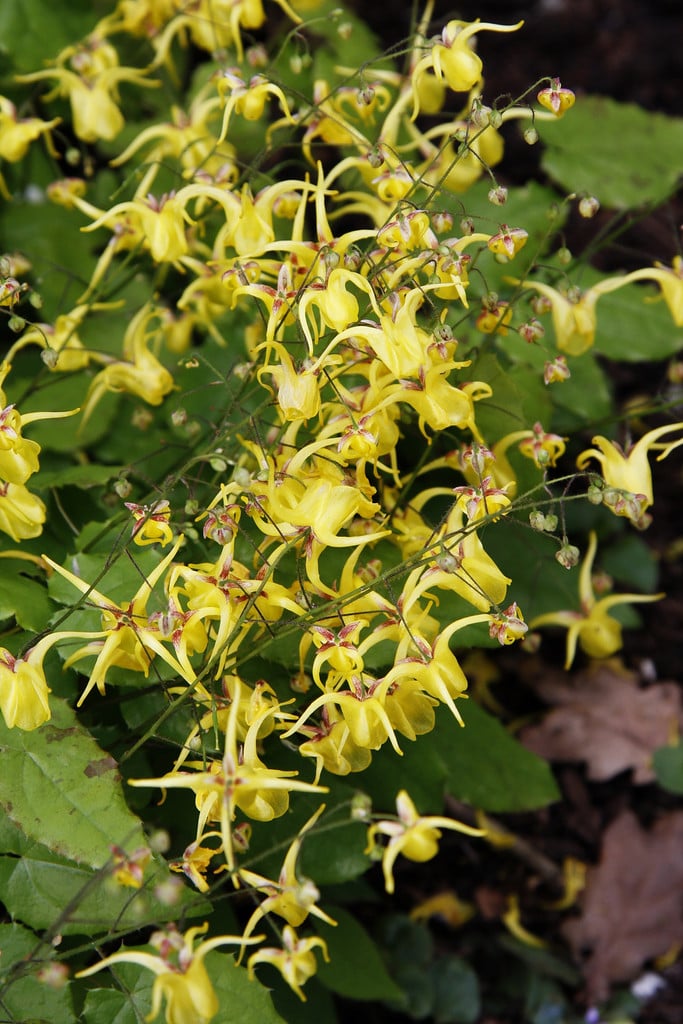 Size
Ultimate height
0.1–0.5 metres
Time to ultimate height
2–5 years
Ultimate spread
0.1–0.5 metres
Growing conditions
Moisture
Moist but well–drained,
Well–drained
Stem
Flower
Foliage
Fruit
Spring

Yellow

Red

Bronze

Green

Summer

Green

Autumn

Green

Winter
Position
Aspect
North–facing or South–facing or West–facing or East–facing
Botanical details
Family

Berberidaceae

Native to the UK

No

Foliage

Deciduous

Genus

Epimedium are rhizomatous perennials with evergreen or deciduous, ternately or pinnately divided leaves, and open sprays of small, bowl-shaped flowers, often with prominent spurs, in mid to late spring

Name status

Correct

Plant range

W China
How to grow
Cultivation
Grow in fertile, moist but well-drained, humus-rich soil in partial shade; shelter from cold, dry winds. Can tolerate full sun and slightly drier soils
Propagation
Propagate by division in autumn or after flowering
Suggested planting locations and garden types
Rock garden
Flower borders and beds
Banks and slopes
Ground cover
Underplanting of roses and shrubs
Pruning
Cut back old foliage in late winter or early spring for the best display of new foliage and flowers
Pests
May be susceptible to vine weevils
Diseases
May be susceptible to a virus
Get involved
The Royal Horticultural Society is the UK's leading gardening charity. We aim to enrich everyone's life through plants, and make the UK a greener and more beautiful place.