Houseplants
Shrubs
Conservatory Greenhouse
Euphorbia milii var. splendens
Christ's thorn
A semi-prostrate to scrambling, slow growing, mainly evergreen, semi-succulent shrub. The stems are armed with well-spaced thorns and the small yellow flowers with their showy red bracts appear mostly in spring and summer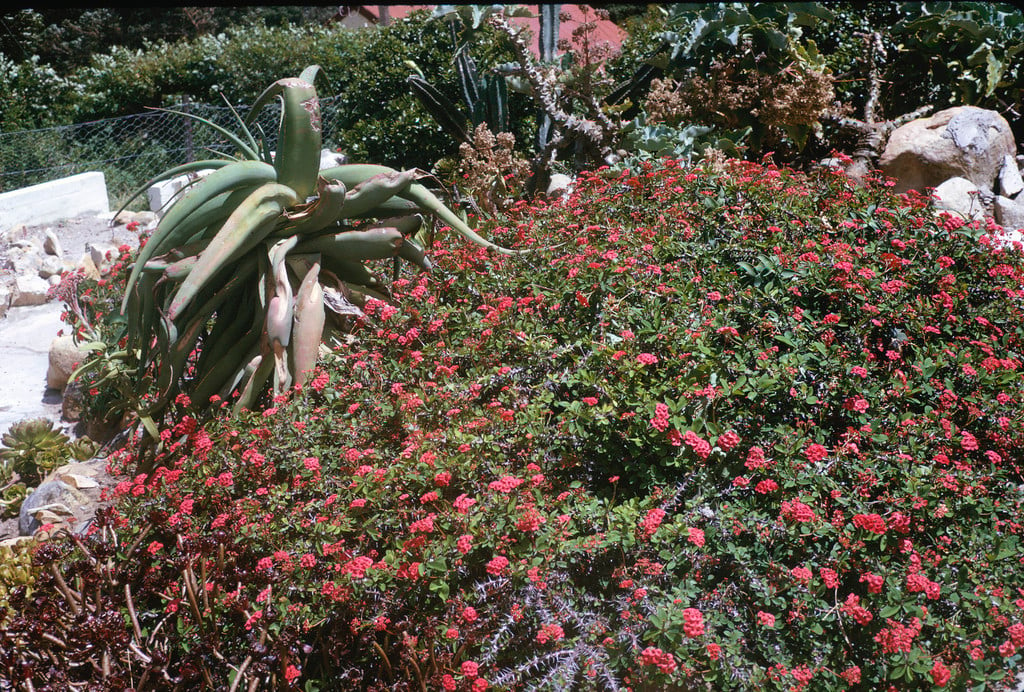 Size
Ultimate height
1–1.5 metres
Time to ultimate height
10–20 years
Ultimate spread
0.5–1 metres
Growing conditions
pH
Acid,
Alkaline,
Neutral
Stem
Flower
Foliage
Fruit
Spring

Red

Yellow

Green

Summer

Red

Yellow

Green

Autumn

Green

Winter

Green
Position
Aspect
East–facing or South–facing or West–facing
Botanical details
Family

Euphorbiaceae

Native to the UK

No

Foliage

Evergreen

Habit

Bushy

Potentially harmful

IRRITANT to skin/eye,

harmful if eaten. Wear gloves and other protective equipment when handling

Genus

Euphorbia can be annuals, perennials, shrubs or succulents, with milky sap and small flowers held within cupped, often colourful bracts

Name status

Correct

Plant range

Madagascar
How to grow
Cultivation
Grow under glass in a mix of three parts loam based potting compost to one part grit in full light. Water sparingly when in growth applying a low nitrogen liquid fertiliser monthly. Keep drier in winter. See Euphorbia for further advice
Propagation
Propagate by seed sown as soon as ripe at 15 to 20°C
Suggested planting locations and garden types
Patio and container plants
Sub-tropical
Low Maintenance
Pruning
Prune lightly after flowering
Pests
May be susceptible to mealybugs
Diseases
May be suseptible to grey moulds
Get involved
The Royal Horticultural Society is the UK's leading gardening charity. We aim to enrich everyone's life through plants, and make the UK a greener and more beautiful place.