Fascicularia bicolor
crimson bromeliad
A rosette-forming, terrestrial bromeliad with slender, spiny-toothed, rigid, mid to dark-green, evergreen leaves up to 50cm long. In summer each mature rosette produces a dense central cluster of pale sky-blue flowers surrounded by ivory-white bracts. At this time, the innermost leaves of the rosette turn scarlet red
Synonyms
Rhodostachys
bicolor
Fascicularia
kirchhoffiana
see more
Fascicularia pitcairniifolia misapplied

Fascicularia
andina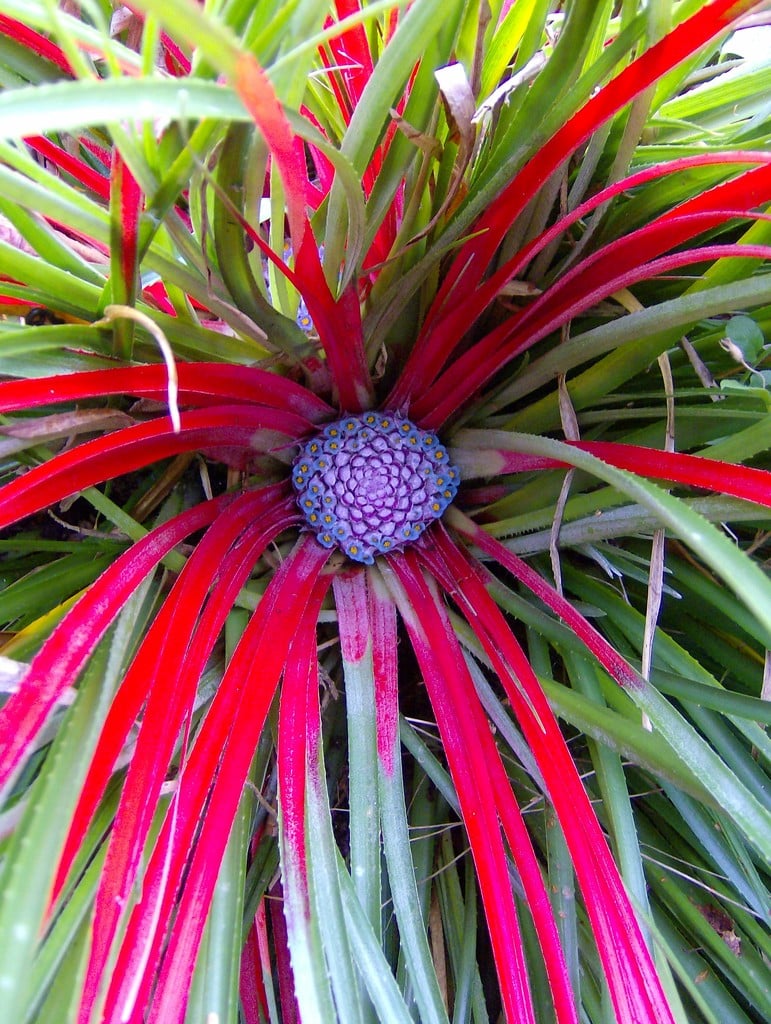 Size
Ultimate height
0.1–0.5 metres
Time to ultimate height
5–10 years
Ultimate spread
0.5–1 metres
Growing conditions
pH
Acid,
Alkaline,
Neutral
Stem
Flower
Foliage
Fruit
Spring

Green

Summer

Blue

Green

Red

Autumn

Green

Winter

Green
Position
Aspect
South–facing or West–facing or East–facing
Botanical details
Family

Bromeliaceae

Native to the UK

No

Foliage

Evergreen

Habit

Tufted

Genus

Fascicularia is a small genus of, usually terrestrial, perennial bromeliads. Toothed, linear leaves are arranged in rosettes; dense flowerheads are embedded in the centre of these rosettes

Name status

Correct

Plant range

C Chile
How to grow
Cultivation
Grow outdoors in terrestrial bromeliad compost or sharply-draining, gritty, humus-rich soil, in a sheltered frost-free location. Protect from winter wet. Under glass grow in terrestrial bromeliad compost, full light and with good ventilation. During active growth water moderately and apply a high nitrogen-based fertiliser monthly. Water more sparingly during the winter
Propagation
Propagate by offsets
Suggested planting locations and garden types
City and courtyard gardens
Patio and container plants
Pruning
No pruning required
Pests
Susceptible to aphids while flowering
Diseases
Generally disease free
Get involved
The Royal Horticultural Society is the UK's leading gardening charity. We aim to enrich everyone's life through plants, and make the UK a greener and more beautiful place.