Fritillaria davisii
Davis fritillary
A bulbous perennial, to 15cm talI, with bright-green broadly lance-shaped leaves. One to three nodding, bell-shaped flowers are borne in spring and are a dark purplish-brown on the outside with a yellowish-green inside chequered with purplish-brown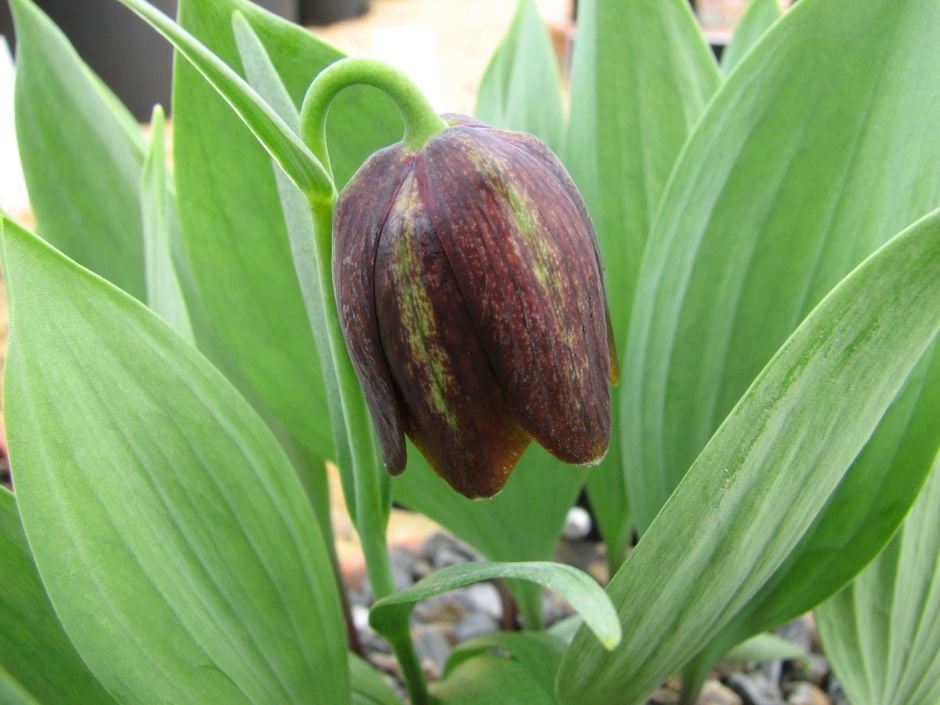 Size
Ultimate height
0.1–0.5 metres
Time to ultimate height
2–5 years
Ultimate spread
0–0.1 metre
Growing conditions
pH
Acid,
Alkaline,
Neutral
Stem
Flower
Foliage
Fruit
Spring

Brown

Purple

Green

Yellow

Green

Summer

Green

Autumn
Winter
Position
Aspect
East–facing or South–facing or North–facing or West–facing
Botanical details
Family

Liliaceae

Native to the UK

No

Foliage

Deciduous

Habit

Columnar upright

Potentially harmful

Ornamental bulbs - not to be eaten. Wear gloves and other protective equipment when handling

Genus

Fritillaria are bulbous herbaceous perennials with lance-shaped or linear leaves and nodding bell-shaped or bowl-shaped flowers that may be solitary or in racemes or umbels

Name status

Correct

Plant range

S Greece
How to grow
Cultivation
Needs a moderately fertile, very well-drained soil and is intolerant of wet when dormant
Propagation
Propagate from seed, sown in pots in a cold frame in autumn. Needs exposure to winter cold for germination in spring. Divide offsets in late summer
Suggested planting locations and garden types
Patio and container plants
Rock garden
Pruning
No pruning required
Pests
May be susceptible to slugs and lily beetle
Diseases
Generally disease-free
Get involved
The Royal Horticultural Society is the UK's leading gardening charity. We aim to enrich everyone's life through plants, and make the UK a greener and more beautiful place.