Conservatory Greenhouse
Shrubs
Pachystachys lutea
lollipop plant
P. lutea is an evergreen shrub to 1m in height, with dark green, lance-shaped leaves and dense spikes of white 2-lipped flowers protruding from showy bright yellow bracts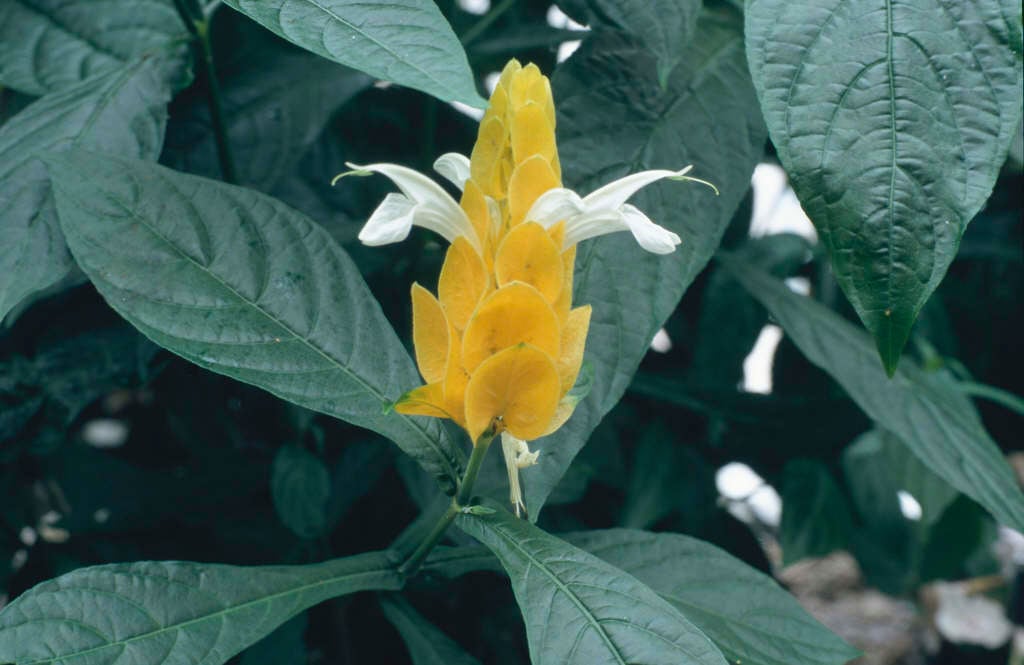 Size
Ultimate height
0.5–1 metres
Time to ultimate height
5–10 years
Ultimate spread
0.1–0.5 metres
Growing conditions
Moisture
Moist but well–drained
pH
Acid,
Alkaline,
Neutral
Stem
Flower
Foliage
Fruit
Spring

White

Yellow

Green

Summer

White

Yellow

Green

Autumn

Green

Winter

Green
Botanical details
Family

Acanthaceae

Native to the UK

No

Foliage

Evergreen

Habit

Bushy

Genus

Pachystachys can be perennials or shrubs, with simple, evergreen leaves and 2-lipped tubular flowers in erect terminal spikes, with large, often colourful bracts

Name status

Correct

Plant range

Peru
How to grow
Cultivation
Grow outdoors in moist but well-drained soil in a sheltered, frost-free area. Grow under glass in loam-based compost in full light with high humidity
Propagation
Propagate by softwood cuttings
Suggested planting locations and garden types
Sub-tropical
Patio and container plants
Pruning
No pruning required
Pests
May be attacked by glasshouse whitefly and glasshouse red spider mite under glass
Diseases
Generally disease free
Get involved
The Royal Horticultural Society is the UK's leading gardening charity. We aim to enrich everyone's life through plants, and make the UK a greener and more beautiful place.