Petasites japonicus
giant butterbur
P. japonicus is a substantial plant, producing huge suborbicular leaves to 90cm across, reaching 150cm in height, in summer. Flowers are cream to white, borne in February on stout erect stems to 30cm. The plant normally available is nearly always the male plant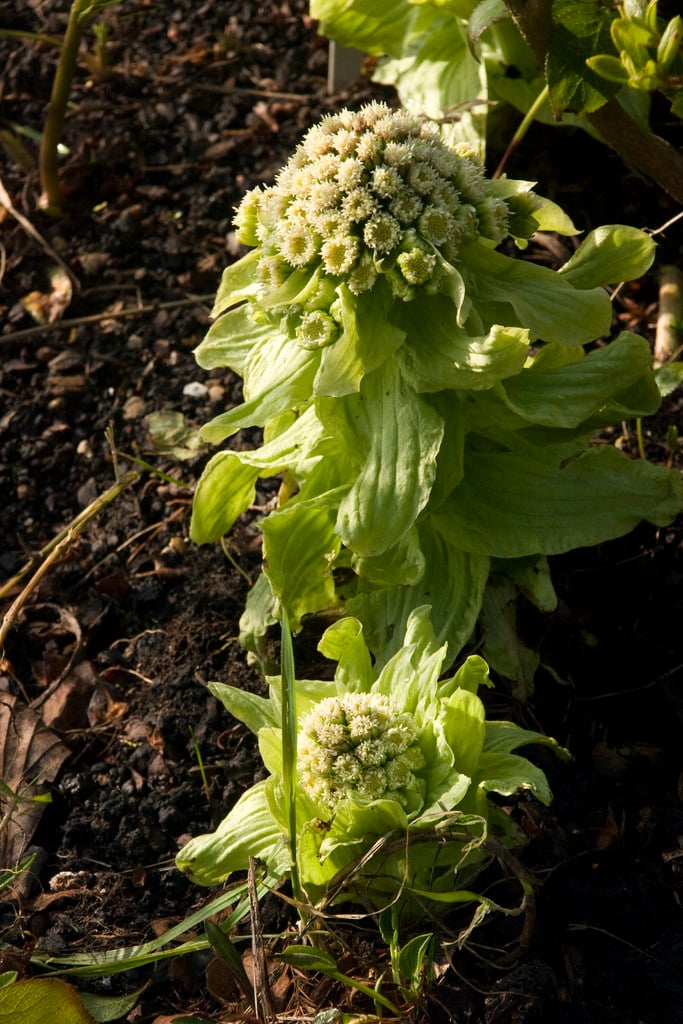 Size
Ultimate height
1–1.5 metres
Time to ultimate height
2–5 years
Ultimate spread
4–8 metres
Growing conditions
Moisture
Moist but well–drained,
Poorly–drained
pH
Acid,
Alkaline,
Neutral
Stem
Flower
Foliage
Fruit
Spring

Cream

White

Summer

Green

Autumn
Winter
Position
Aspect
North–facing or East–facing
Botanical details
Family

Asteraceae

Native to the UK

No

Foliage

Deciduous

Habit

Bushy

Genus

Petasites are perennial plants, usually large, with thick rhizomes or stems. Leaves are often very large and either heart-shaped or kidney-shaded. Scapes or stems many-headed, with any leaves usually reduced to scales. Flowers dioecious in usually rayless heads, purple or white, rarely yellowish, borne in panicles or racemes at the ends of the scapes

Name status

Correct

Plant range

Korea China Japan
How to grow
Cultivation
Grow in deep humus-rich, fertile soil that is permanently moist but not stagnant, in partial or full shade. It may become invasive
Propagation
Divide in spring
Suggested planting locations and garden types
Wildlife gardens
Low Maintenance
Pruning
Remove the old foliage before the onset of new growth in late winter
Pests
Generally trouble free
Diseases
Generally trouble free
Get involved
The Royal Horticultural Society is the UK's leading gardening charity. We aim to enrich everyone's life through plants, and make the UK a greener and more beautiful place.