Teucrium chamaedrys L.
wall germander
An upright, dwarf evergreen sub-shrub with dark green leaves and fragranced, pale blue-purple flowers in the summer.
Other common names
ground oak

horse chive

see more
wild germander

mercury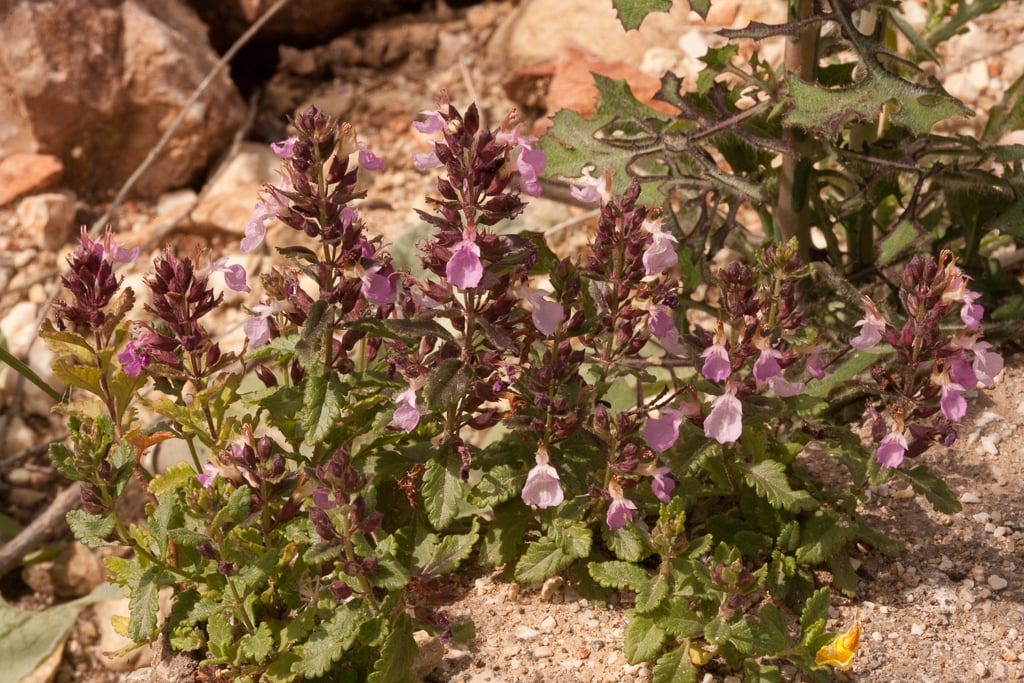 Size
Ultimate height
0.1–0.5 metres
Time to ultimate height
2–5 years
Ultimate spread
0.1–0.5 metres
Growing conditions
Moisture
Moist but well–drained,
Well–drained
Stem
Flower
Foliage
Fruit
Spring

Green

Summer

Purple

Blue

Green

Autumn

Green

Winter

Green
Position
Aspect
South–facing or West–facing or East–facing
Botanical details
Family

Lamiaceae

Native to the UK

No

Foliage

Evergreen

Habit

Bushy

Potentially harmful

Harmful if eaten. Wear gloves and other protective equipment when handling LJD

Genus

Teucrium can be herbaceous perennials, deciduous or evergreen shrubs or sub-shrubs, with paired, aromatic leaves and tubular, 1-lipped flowers in whorls

Name status

Correct

Plant range

Europe to Iran
How to grow
Cultivation
Grow in well-drained prefrably neutral to alkaline soil in full sun
Propagation
Propagate by soft wood cuttings in early summer or semi ripe cuttings in mid summer. Rooted cuttings will need winter protection in a cool greenhouse or cold frame
Suggested planting locations and garden types
City and courtyard gardens
Cottage and informal garden
Low Maintenance
Flower borders and beds
Pruning
Prune in spring, trim any winter damaged foliage
Pests
Generally pest-free
Diseases
Generally disease-free
Get involved
The Royal Horticultural Society is the UK's leading gardening charity. We aim to enrich everyone's life through plants, and make the UK a greener and more beautiful place.