Shrubs
Conservatory Greenhouse
Houseplants
Dracaena fragrans (Deremensis Group) 'Warneckei' (v)
striped dracaena
A sparsely branched, erect evergreen shrub to 4m or taller, with arching, sword-shaped leaves to 60cm in length, grey-green narrowly edged with white
Synonyms
Dracaena deremensis 'Warneckii'

Dracaena fragrans 'Warneckei'

see more
Dracaena deremensis var. warneckei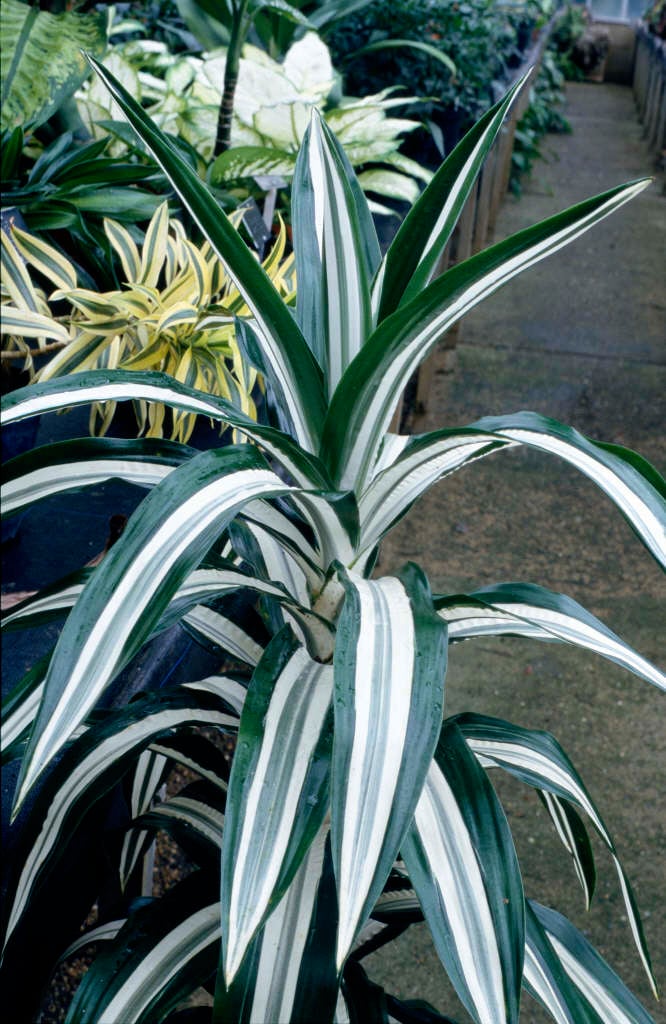 Size
Ultimate height
1–1.5 metres
Time to ultimate height
5–10 years
Ultimate spread
0.5–1 metres
Growing conditions
Moisture
Moist but well–drained
pH
Acid,
Alkaline,
Neutral
Stem
Flower
Foliage
Fruit
Spring

Green

Grey

Silver

White

Summer

White

Green

Grey

Silver

White

Autumn

Green

Grey

Silver

White

Orange

Red

Winter

Green

Grey

Silver

White
Position
Aspect
East–facing or South–facing or West–facing
Exposure
Exposed or
Sheltered
Botanical details
Family

Asparagaceae

Native to the UK

No

Foliage

Evergreen

Habit

Bushy

Genus

Dracaena are evergreen trees, the few branches bearing linear to lance-shaped leaves often crowded towards the tips; on mature plants, small greenish-white flowers may be followed by orange or red berries

Name status

Accepted

Plant range

Tropical Africa
How to grow
Cultivation
Under glass grow in loam-based potting compost in full light and shade from hot sun and with moderate humidity. Water freely and apply a balanced liquid fertiliser monthly from spring to autumn and keep just moist in winter. If growth is weak, plants can be cut back to within 15cm of the base in spring. Tolerant of low light levels indoors
Propagation
Propagate by semi-hardwood cuttings or leafless stem sections in spring with bottom heat
Suggested planting locations and garden types
Patio and container plants
Pruning
No pruning required
Pests
Glasshouse red spider mite and scale insects may be a problem under glass
Diseases
Generally disease free
Get involved
The Royal Horticultural Society is the UK's leading gardening charity. We aim to enrich everyone's life through plants, and make the UK a greener and more beautiful place.