Adromischus maculatus
spotted adromischus
A perennial succulent with a sparsely branched brown caudex. Inversely lance-shaped bright green leaves to 5cm (2in) long are often spotted or mottled with deep reddish-purple and often the leaves have horny margins. Spike-like cymes, 25-20cm (10-12in) long, of tubular green flowers 1.5cm (¾in) long with pinkish-white, or pale purple lobes, are borne in summer.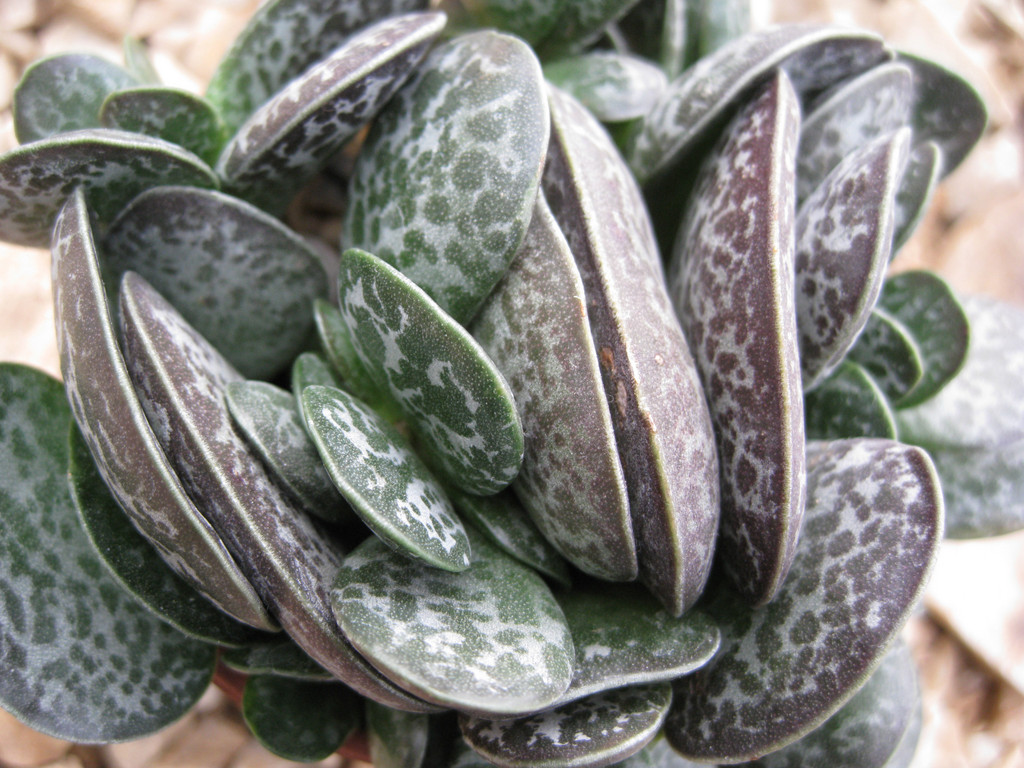 Size
Ultimate height
0.1–0.5 metres
Time to ultimate height
2–5 years
Ultimate spread
0.1–0.5 metres
Growing conditions
pH
Acid,
Alkaline,
Neutral
Stem
Flower
Foliage
Fruit
Spring

Purple

Green

Summer

Green

Purple

Green

Autumn

Purple

Green

Winter

Purple

Green
Position
Aspect
West–facing or South–facing
Botanical details
Family

Crassulaceae

Native to the UK

No

Foliage

Evergreen

Habit

Bushy

Genus

Adromischus are a genus of easily-propagated leaf succulents native to South Africa. Stems are thick and flowers bright green.

Name status

Correct

Plant range

S Africa (Cape)
How to grow
Cultivation
Grow under glass in a sharply draining or proprietary cactus compost in full sunlight with good ventilation. Water during the growing season in spring to autumn, only when the soil has become dry. Withhold water altogether in the winter months and keep cool, but not lower than 7°C (45°F). A low nitrogen fertiliser can be applied two or three times during the growing season.
Propagation
propagate by seed at 19-24°C (66-75°F) in spring. May also be propagated from leaf cuttings and stem cuttings in summer
Suggested planting locations and garden types
Patio and container plants
Sub-tropical
Pruning
none required
Pests
Diseases
susceptible to root rots if grown in wet soil
Get involved
The Royal Horticultural Society is the UK's leading gardening charity. We aim to enrich everyone's life through plants, and make the UK a greener and more beautiful place.