Geranium phaeum 'Variegatum' (v)
variegated dusky cranesbill
An upright perennial to 60cm tall, with lobed leaves irregularly margined with cream and also blotched with maroon between the main lobes; flowers are deep maroon, opening in late spring and early summer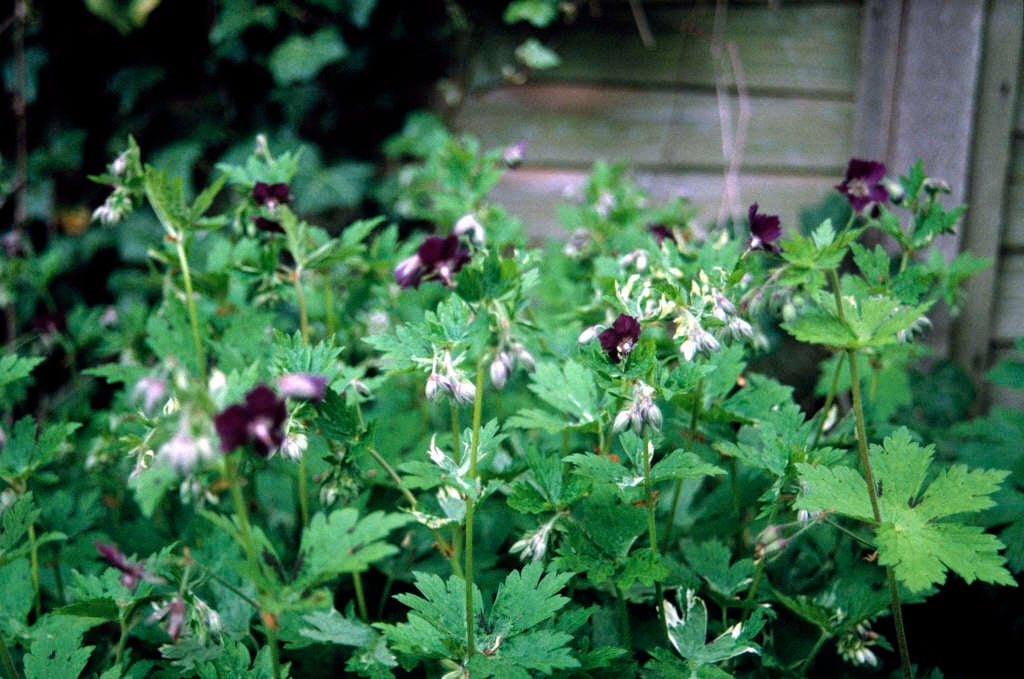 Size
Ultimate height
0.5–1 metres
Time to ultimate height
2–5 years
Ultimate spread
0.1–0.5 metres
Growing conditions
Moisture
Moist but well–drained,
Well–drained
pH
Acid,
Alkaline,
Neutral
Stem
Flower
Foliage
Fruit
Spring

Cream

Purple

Green

Summer

Purple

Cream

Purple

Green

Autumn
Winter
Position
Aspect
South–facing or North–facing or West–facing or East–facing
Exposure
Exposed or
Sheltered
Botanical details
Family

Geraniaceae

Native to the UK

No

Foliage

Deciduous

Habit

Bushy

Genus

Geranium can be annuals, biennials and perennials, herbaceous or evergreen, with rounded, usually palmately lobed or divided leaves, and lax inflorescences of rounded, 5-petalled flowers

Name status

Accepted
How to grow
Cultivation
Grows best in moderately fertile well-drained soil in full sun, partial shade or deep shade. Most soils (unless waterlogged) in either sun or shade are tolerated
Propagation
Divide between early autumn and early spring or cut back plants after flowering in summer then divide, replant and water well
Suggested planting locations and garden types
Cottage and informal garden
Flower borders and beds
Underplanting of roses and shrubs
Pruning
Remove flowered stems and old leaves to encourage the production of fresh leaves and flowers
Pests
May be damaged by vine weevil larvae, Geranium sawfly larvae, capsid bug or slugs and snails
Diseases
Downy mildew and a virus are occasional problems. Powdery mildew in dry conditions may be troublesome
Get involved
The Royal Horticultural Society is the UK's leading gardening charity. We aim to enrich everyone's life through plants, and make the UK a greener and more beautiful place.