Lilium 'King Pete' (Ib/b-c)
lily 'King Pete'
'King Pete' is a vigorous bulbous perennial with narrow leaves and broad-petalled cream flowers in mid summer, each petal spotted with orange on a yellow zone near the base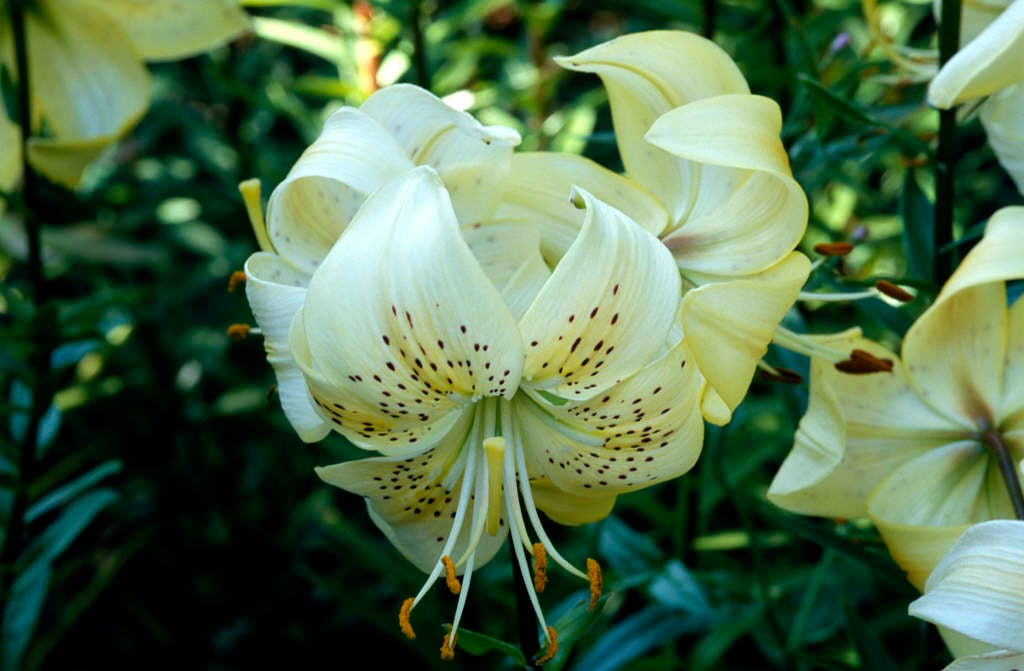 Size
Ultimate height
0.5–1 metres
Time to ultimate height
2–5 years
Ultimate spread
0.1–0.5 metres
Growing conditions
Moisture
Moist but well–drained,
Well–drained
pH
Acid,
Alkaline,
Neutral
Stem
Flower
Foliage
Fruit
Spring

Green

Summer

Cream

Yellow

Green

Autumn
Winter
Position
Aspect
South–facing or West–facing or East–facing or North–facing
Botanical details
Family

Liliaceae

Native to the UK

No

Foliage

Deciduous

Habit

Bushy

Potentially harmful

Ornamental bulbs - not to be eaten. Wear gloves and other protective equipment when handling

Genus

Lilium are bulbous perennials with erect stems bearing whorled or spirally arranged leaves and terminal racemes or umbels of bowl-shaped, trumpet-shaped, funnel-shaped or turks cap shaped flowers, often fragrant, and white, yellow, orange or red

Name status

Accepted

Horticultural Group

Division Ib lilies are Asiatic Hybrids, with alternate leaves and outward-facing, open-funnel-shaped flowers in mid summer
How to grow
Cultivation
Grow in well-drained soil enriched with leaf mould or well-rotted organic matter in full sun with the base of the plant in shade. In a container grow in loam based potting compost such as John Innes No 2 with added grit and leaf mould. Water freely and apply a high potash liquid fertiliser every two weeks. Keep moist in winter
Propagation
Propagate by seed, sown, when ripe, in containers in a cold frame or separate offsets after the foliage dies down
Suggested planting locations and garden types
City and courtyard gardens
Cottage and informal garden
Patio and container plants
Flower borders and beds
Underplanting of roses and shrubs
Pruning
In autumn, once foliage has yellowed, cut back to ground level
Pests
May be susceptible to lily beetle, aphids, slugs, snails, Thrips, leatherjackets, and wireworms, and to damage by rabbits and voles; plants in containers may be affected by vine weevil
Diseases
May be susceptible to grey moulds and a virus; see lily diseases
Get involved
The Royal Horticultural Society is the UK's leading gardening charity. We aim to enrich everyone's life through plants, and make the UK a greener and more beautiful place.