Tradescantia fluminensis 'Quicksilver' (v)
spiderwort 'Quicksilver'
'Quicksilver' is an evergreen perennial to 20cm, with elliptic to ovate leaves longitudinally striped with white, and terminal clusters of small white flowers intermittently throughout the year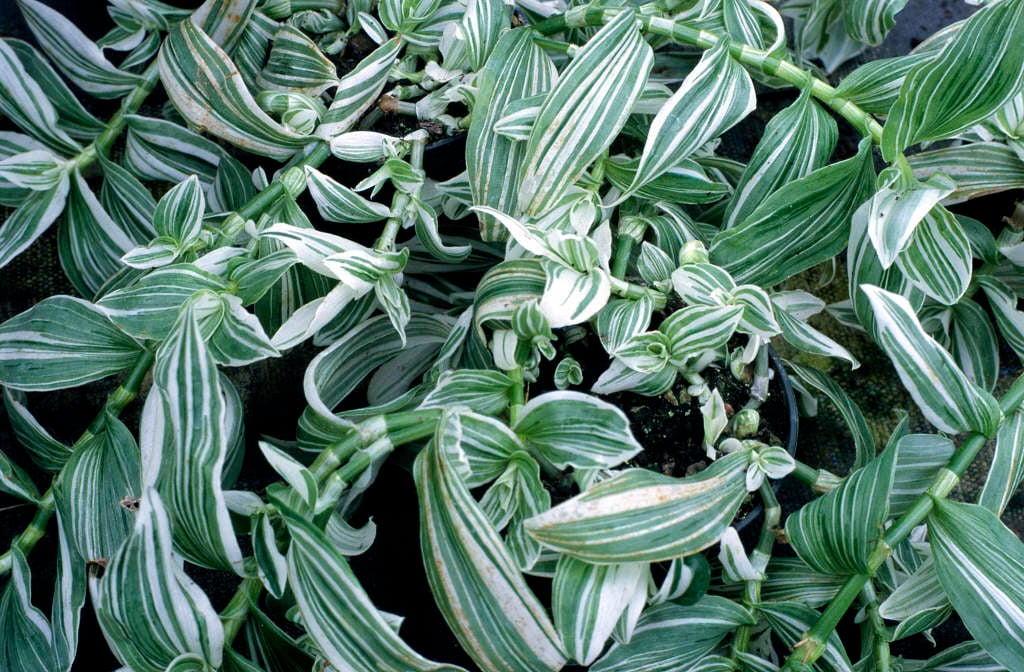 Size
Ultimate height
0.1–0.5 metres
Time to ultimate height
2–5 years
Ultimate spread
0.1–0.5 metres
Growing conditions
Moisture
Moist but well–drained
pH
Acid,
Alkaline,
Neutral
Stem
Flower
Foliage
Fruit
Spring

White

Cream

White

Variegated

Summer

White

Green

White

Variegated

Autumn

White

Green

White

Variegated

Winter

White

Green

White

Variegated
Position
Aspect
East–facing or South–facing or West–facing
Botanical details
Family

Commelinaceae

Native to the UK

No

Foliage

Evergreen

Habit

Trailing

Potentially harmful

Skin allergen. Wear gloves and other protective equipment when handling

Genus

Tradescantia can be trailing or tufted perennials with usually fleshy, evergreen foliage and distinctive, 3-petalled flowers

Name status

Unresolved
How to grow
Cultivation
Under glass grow in loam-based potting compost (JI No.2) in bright filtered light; water moderately when in active growth using a balanced liquid fertiliser monthly, water sparingly in winter. Outdoors, grow in moist, fertile soil in sun or shade. Water freely in dry weather
Propagation
Propagate by softwood cuttings using stem tips in spring or summer, rooting in cutting compost or water then pot up into loam-based potting compost (JI No.1)
Suggested planting locations and garden types
Patio and container plants
Low Maintenance
Pruning
Pinch growing tips to encourage bushiness and remove plain green foliage
Pests
May be susceptible to red spider mite, mealybugs, aphids, vine weevil and thrips
Diseases
Generally disease-free
Get involved
The Royal Horticultural Society is the UK's leading gardening charity. We aim to enrich everyone's life through plants, and make the UK a greener and more beautiful place.