Echinops exaltatus
tall globe thistle
A clump-forming, upright perennial, reaching up to 2m. It has pale, silvery-blue spherical flower heads up to 7cm across on tall, branched stems held above the thistle-like green foliage throughout summer and autumn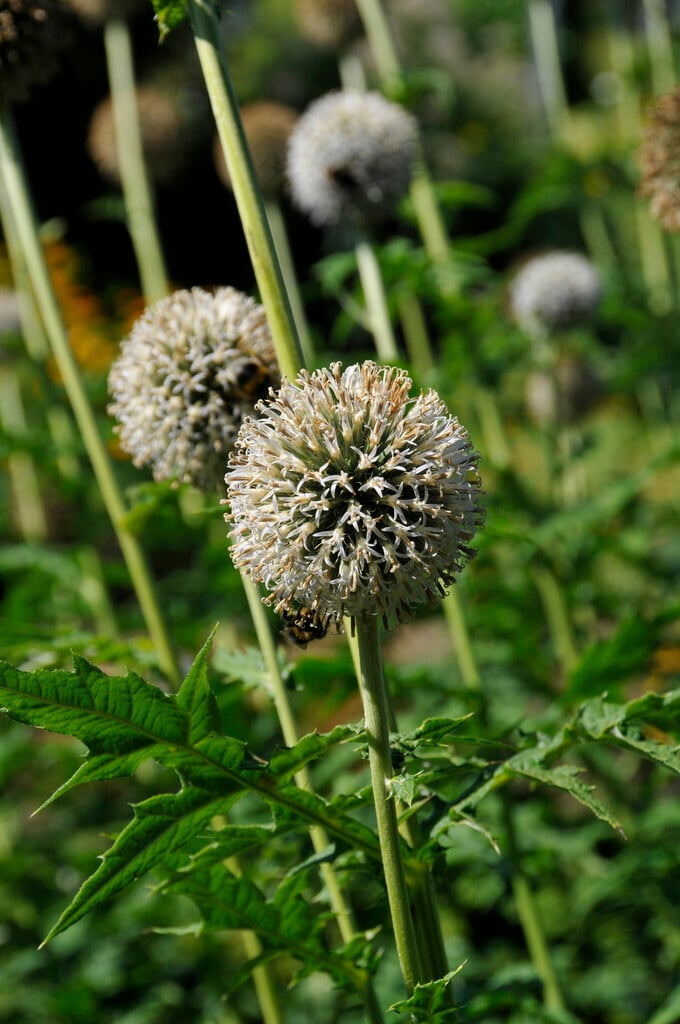 Size
Ultimate height
1.5–2.5 metres
Time to ultimate height
2–5 years
Ultimate spread
1–1.5 metres
Growing conditions
Moisture
Well–drained,
Moist but well–drained
pH
Acid,
Alkaline,
Neutral
Stem
Flower
Foliage
Fruit
Spring

Green

Summer

Grey

Silver

Blue

Green

Autumn

Grey

Silver

Blue

Green

Winter
Position
Aspect
South–facing or West–facing or East–facing
Exposure
Exposed or
Sheltered
Botanical details
Family

Asteraceae

Native to the UK

No

Foliage

Deciduous

Habit

Columnar upright

Genus

Echinops can be annuals, biennials or perennials with simple or pinnately lobed, spiny leaves and spherical blue or whitish flower-heads

Name status

Correct
How to grow
Cultivation
Best in poor, well-drained soil in full sun but will tolerate most soils in full sun and can tolerate partial shade
Propagation
Propagate by seed sown in seed bed in mid spring. Propagate by division in spring or autumn or by root cuttings in winter
Suggested planting locations and garden types
City and courtyard gardens
Coastal
Cottage and informal garden
Gravel garden
Wildlife gardens
Cut flowers
Flower borders and beds
Pruning
Deadhead to prevent self-seeding
Pests
May be susceptible to aphids
Diseases
Generally disease-free
Get involved
The Royal Horticultural Society is the UK's leading gardening charity. We aim to enrich everyone's life through plants, and make the UK a greener and more beautiful place.