Ferocactus emoryi
Emory's barrel cactus
A bluish-green barrel cactus, globular at first, becoming cylindrical, and capable of reaching 2m after many years. Young plants have a regular arrangement of conical tubercles tipped with 6 to 10 long, curved, red or light brown spines. Older plants develop 15 to 30 deep ribs. Red, yellow or pale orange, funnel-shaped flowers up to 7.5cm across appear in summer, followed by yellow, egg-shaped fruit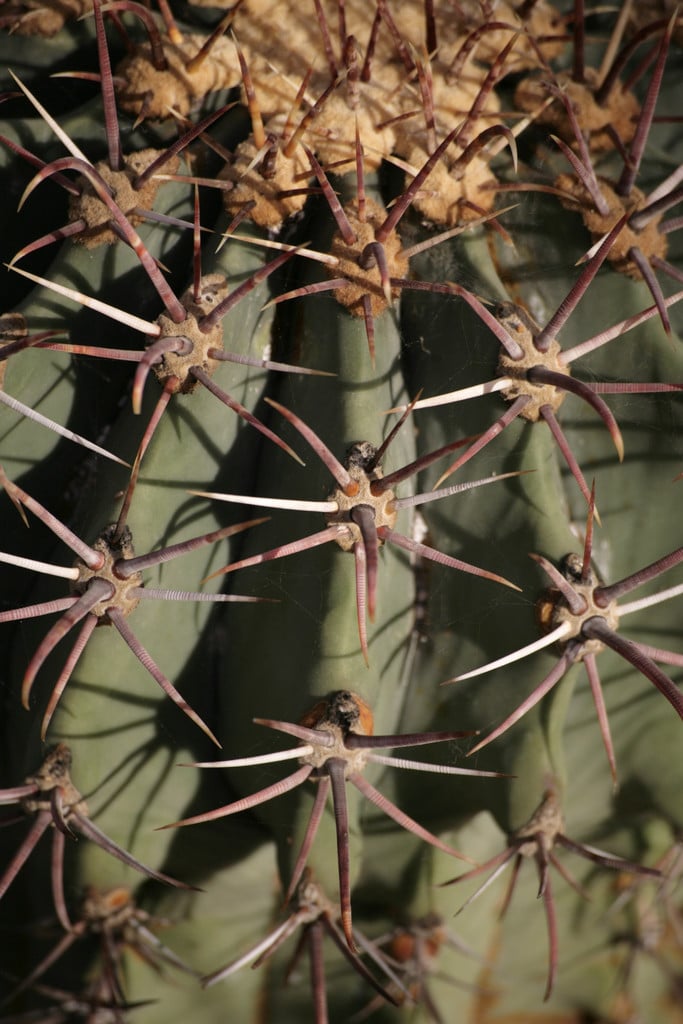 Size
Ultimate height
1.5–2.5 metres
Time to ultimate height
10–20 years
Ultimate spread
0.1–0.5 metres
Growing conditions
pH
Acid,
Alkaline,
Neutral
Stem
Flower
Foliage
Fruit
Spring

Green

Summer

Green

Red

Yellow

Orange

Yellow

Autumn

Green

Yellow

Winter

Green
Position
Aspect
South–facing or West–facing
Botanical details
Family

Cactaceae

Native to the UK

No

Foliage

Evergreen

Habit

Columnar upright

Genus

Ferocactus are spherical to columnar cacti with prominent ribs bearing spiny areoles, the spines sometimes hooked, and funnel-shaped flowers in summer

Name status

Correct
How to grow
Cultivation
Grow under glass in a loam-based potting compost with added grit. Water moderately when in growth, not at all when dormant. Apply a balanced liquid fertiliser two or three times in the growing season. See houseplant cacti and succulent cultivation
Propagation
Suggested planting locations and garden types
Conservatory and greenhouse
Pruning
No pruning required
Pests
May be susceptible to mealybugs
Diseases
Generally disease-free
Get involved
The Royal Horticultural Society is the UK's leading gardening charity. We aim to enrich everyone's life through plants, and make the UK a greener and more beautiful place.