Fitzroya cupressoides
Patagonian cypress
A large conical tree with peeling red-brown bark reaching a height of approximately 25m but grows considerably larger in its native habitat where it is a long-lived, slow-growing tree. The scale-like, green leaves to 6mm long are banded white and borne in threes in sprays on the large, drooping branches. Small, globose cones to 8mm across made up of nine scales ripen from green to brown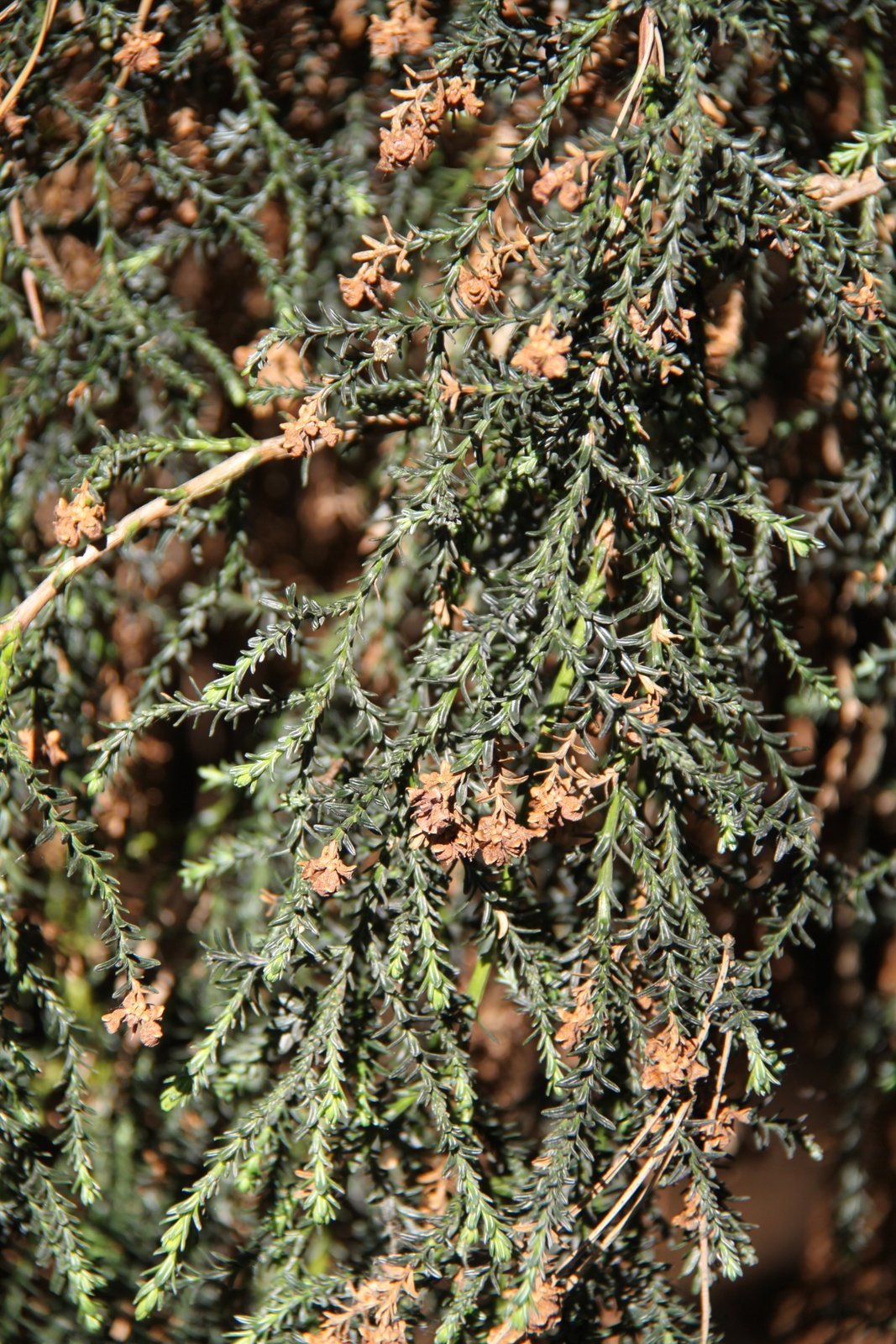 Size
Ultimate height
Higher than 12 metres
Time to ultimate height
20–50 years
Ultimate spread
Wider than 8 metres
Growing conditions
Moisture
Moist but well–drained,
Well–drained
pH
Acid,
Alkaline,
Neutral
Stem
Flower
Foliage
Fruit
Spring

Brown

Red

Green

Brown

Green

Summer

Brown

Red

Green

Brown

Green

Autumn

Brown

Red

Green

Brown

Green

Winter

Brown

Red

Green

Brown

Green
Position
Aspect
West–facing or East–facing or South–facing or North–facing
Exposure
Exposed or
Sheltered
Botanical details
Family

Cupressaceae

Native to the UK

No

Foliage

Evergreen

Habit

Columnar upright

Genus

Fitzroya are a genus of large trees with one particular species, FItzroya cupressoides, being the largest tree species in South America. They can grow up to 15m with a trunk diameter of up to 5m.

Name status

Correct

Plant range

Chile, S Argentina
How to grow
Cultivation
Grows best in moderately fertile, moist but well-drained soil in full sun. Shelter from strong winds to prevent damage to mature branches
Propagation
Propagate by seed or from semi-ripe cuttings
Suggested planting locations and garden types
Architectural
Low Maintenance
Pruning
None required
Pests
Generally trouble free
Diseases
Generally trouble free
Get involved
The Royal Horticultural Society is the UK's leading gardening charity. We aim to enrich everyone's life through plants, and make the UK a greener and more beautiful place.