Viola 'Molly Sanderson' (Va)
viola 'Molly Sanderson'
'Molly Sanderson' is a spreading evergreen perennial to 12cm in height, with ovate leaves and black flowers 2.5 cm in width, with a small yellow eye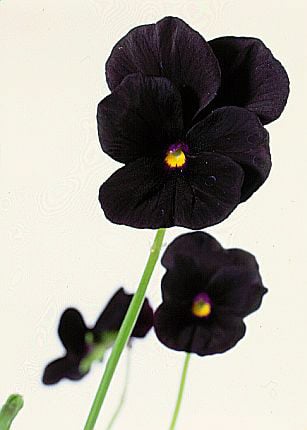 Size
Ultimate height
Up to 10cm
Time to ultimate height
2–5 years
Ultimate spread
0.1–0.5 metres
Growing conditions
Moisture
Moist but well–drained
pH
Acid,
Alkaline,
Neutral
Stem
Flower
Foliage
Fruit
Spring

Green

Summer

Black

Yellow

Green

Autumn

Black

Yellow

Green

Winter

Green
Position
Aspect
East–facing or South–facing or West–facing
Exposure
Exposed or
Sheltered
Botanical details
Family

Violaceae

Native to the UK

No

Foliage

Evergreen

Habit

Matforming

Genus

Viola can be annuals, biennials or deciduous or evergreen perennials, with simple or pinnately lobed leaves and 5-petalled flowers of characteristic shape

Name status

Accepted

Horticultural Group

Violas are compact reliably perennial, clump-forming plants with a complex root system and rounded, more or less fragrant flowers, often with darker rays, over a long period in late spring and summer
How to grow
Cultivation
Grow in fertile, humus-rich, moist but well-drained soil in full sun or partial shade
Propagation
Propagate by seed sown in late winter or early spring
Suggested planting locations and garden types
City and courtyard gardens
Coastal
Cottage and informal garden
Patio and container plants
Rock garden
Flower borders and beds
Banks and slopes
Ground cover
Pruning
Deadhead to prolong flowering. After flowering cut back vigorous plants to keep compact
Pests
May be attacked by slugs, snails, aphids, glasshouse red spider mite, violet gall midge
Diseases
May be subject to powdery mildews, pansy leaf spot, a virus and a rust
Get involved
The Royal Horticultural Society is the UK's leading gardening charity. We aim to enrich everyone's life through plants, and make the UK a greener and more beautiful place.