Conservatory Greenhouse
Shrubs
Sparrmannia africana
African hemp
S. africana is a vigorous evergreen shrub to 6m or more, with large, broadly ovate, shallowly lobed leaves and clusters of white flowers 3.5cm across, with red and yellow stamens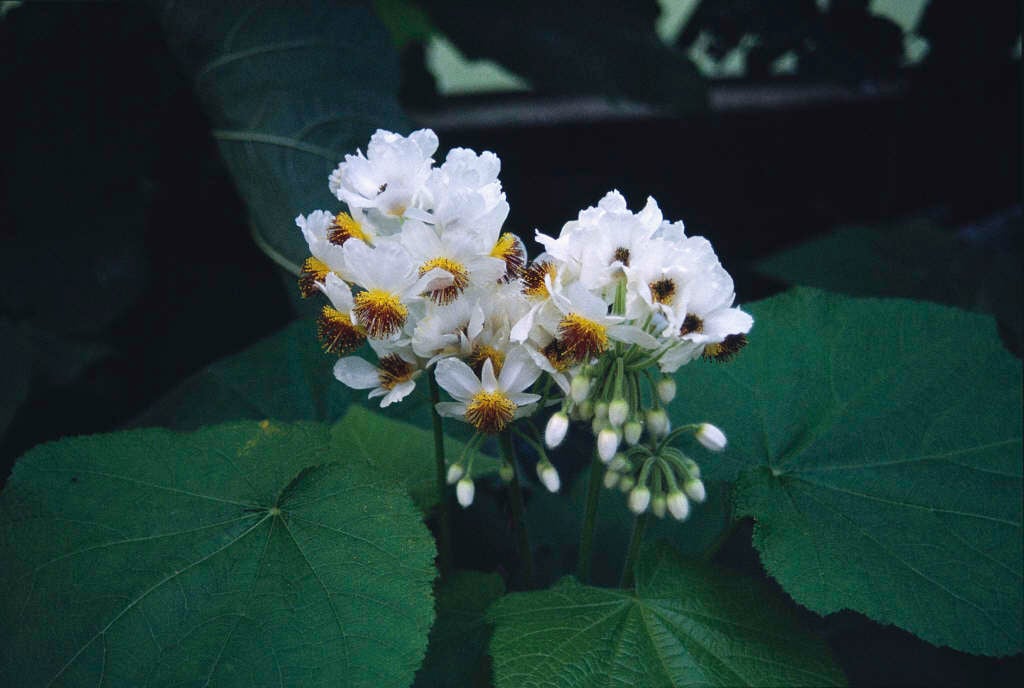 Size
Ultimate height
4–8 metres
Time to ultimate height
10–20 years
Ultimate spread
2.5–4 metres
Growing conditions
Moisture
Moist but well–drained
pH
Acid,
Alkaline,
Neutral
Stem
Flower
Foliage
Fruit
Spring

Red

White

Yellow

Green

Summer

Red

White

Yellow

Green

Autumn

Green

Winter

Green
Position
Aspect
East–facing or South–facing
Botanical details
Family

Malvaceae

Native to the UK

No

Foliage

Deciduous

Habit

Bushy

Potentially harmful

Skin irritant. Wear gloves and other protective equipment when handling

Genus

Sparrmannia are large evergreen shrubs or small trees, with simple or palmately lobed, ovate leaves and umbels of 4-petalled, white or purple flowers with prominent stamens

Name status

Correct

Plant range

South Africa
How to grow
Cultivation
Grow under glass in loam-based compost in full light. Grow outdoors in moist but well-drained soil in sheltered frost-free area
Propagation
Propagate by seed or semi-hardwood cuttings
Suggested planting locations and garden types
Patio and container plants
Pruning
Pests
May be susceptible to glasshouse whitefly and glasshouse red spider mite
Diseases
Generally disease-free
Get involved
The Royal Horticultural Society is the UK's leading gardening charity. We aim to enrich everyone's life through plants, and make the UK a greener and more beautiful place.