Pyrus communis (F)
common pear
A large, columnar, occasionally thorny, deciduous tree with glossy, dark green leaves. Clusters of white flowers are produced in mid-spring, followed by edible, pear-shaped to spherical, green to yellow fruit up to 10cm long. Many cultivated varieties of pear have been developed from this species; the trees are generally smaller, and unlikely to be thorny
Other common names
achras

choke pear

see more
wild pear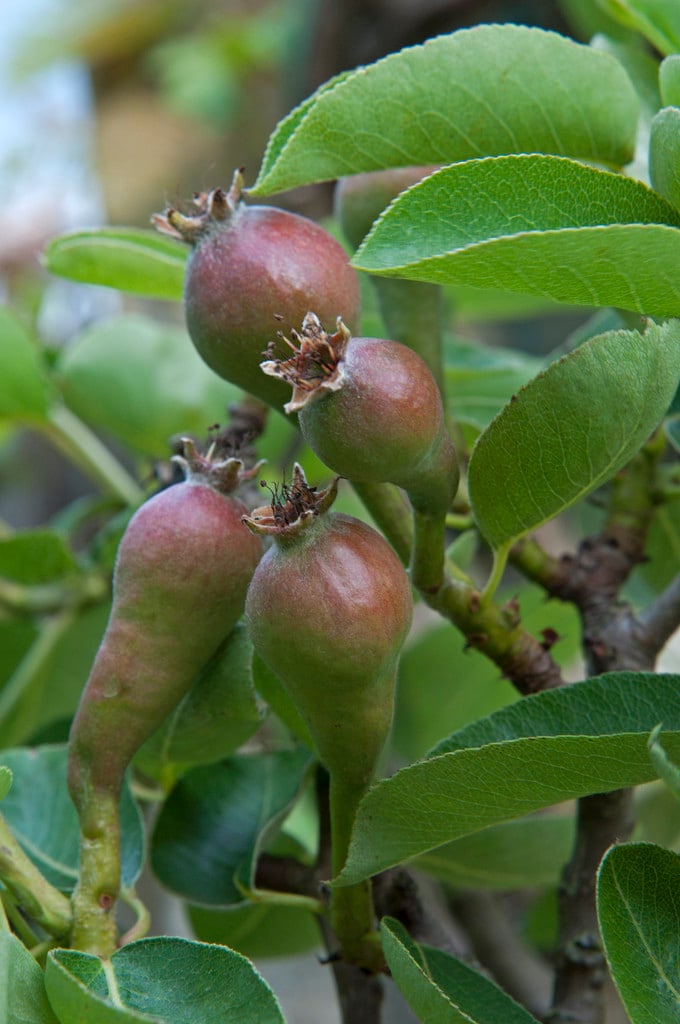 Size
Ultimate height
8–12 metres
Time to ultimate height
20–50 years
Ultimate spread
4–8 metres
Growing conditions
Moisture
Moist but well–drained,
Well–drained
pH
Acid,
Alkaline,
Neutral
Stem
Flower
Foliage
Fruit
Spring

White

Green

Summer

Green

Autumn

Green

Green

Yellow

Winter
Position
Aspect
South–facing or West–facing
Botanical details
Family

Rosaceae

Native to the UK

No

Foliage

Deciduous

Habit

Bushy

Genus

Pyrus are deciduous trees or shrubs with oval leaves and scented white flowers in spring, followed by green or brown fruits, edible in some species

Name status

Correct

Plant range

Europe, Asia Minor.
How to grow
Cultivation
Needs a deep, fertile, moist but well-drained, fairly neutral soil in a sheltered, sunny position. Will not thrive on very acid soils, shallow chalk soils or with shade for more than half the day. See pear cultivation
Propagation
Propagate by grafting or budding onto a clonal rootstock for fruit. Fruit grown from pips will not normally resemble the parent
Suggested planting locations and garden types
Cottage and informal garden
Wildlife gardens
Edible fruit
Pruning
Thin fruit in late spring or early summer to improve size and quality. See fruit thinning. Regular pruning required; prune cordons and other restricted forms in summer and all trees in winter. Further pruning advice: pruning new pear trees, summer pear pruning, winter pear pruning, renovating pear trees, pruning established fans
Pests
May be susceptible to aphids, caterpillars, codling moth, pear blister mite, pear midge and pear and cherry slugworm
Diseases
May be susceptible to blossom wilt, brown rot, fireblight, pear scab, European pear rust and honey fungus (rarely)
Get involved
The Royal Horticultural Society is the UK's leading gardening charity. We aim to enrich everyone's life through plants, and make the UK a greener and more beautiful place.