Berberis candidula C.K. Schneid.
paleleaf barberry
A dense, rounded evergreen dwarf shrub to 60cm in height with oval, dark green leaves with white undersides and spines at their tips. Stems bear needle-like spines. In late spring, bright yellow, flowers are borne, followed by blue-black berries with a whitish patina
Synonyms
Berberis hypoleuca misapplied

Berberis hookeri var. candidula

see more
Berberis wallichiana var. pallida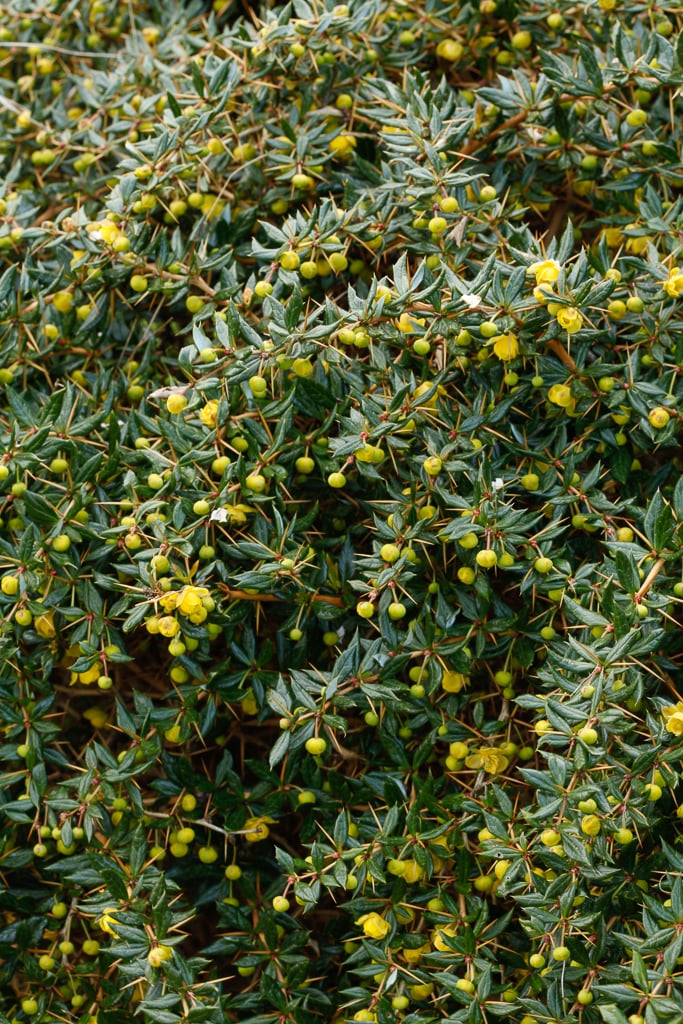 Size
Ultimate height
0.5–1 metres
Time to ultimate height
2–5 years
Ultimate spread
1–1.5 metres
Growing conditions
Moisture
Moist but well–drained,
Well–drained
pH
Acid,
Alkaline,
Neutral
Stem
Flower
Foliage
Fruit
Spring

Yellow

Green

Summer

Green

Blue

Black

White

Autumn

Green

Winter

Green
Position
Aspect
East–facing or South–facing or North–facing or West–facing
Exposure
Sheltered or
Exposed
Botanical details
Family

Berberidaceae

Native to the UK

No

Foliage

Evergreen

Habit

Bushy

Potentially harmful

Fruit are ornamental - not to be eaten. Wear gloves and other protective equipment when handling

Genus

Berberis can be deciduous or evergreen shrubs with spiny shoots bearing simple, often spine-toothed leaves, and small yellow or orange flowers in axillary clusters or racemes, followed by small berries

Name status

Correct
How to grow
Cultivation
Grows in any soil except waterlogged. A sunny position will encourage fruiting
Propagation
Propagate by seed or from semi-hardwood cuttings
Suggested planting locations and garden types
Cottage and informal garden
Wildlife gardens
Low Maintenance
Ground cover
Banks and slopes
Pruning
Pests
May be susceptible to aphids and berberis sawfly
Diseases
May be susceptible to powdery mildew
Get involved
The Royal Horticultural Society is the UK's leading gardening charity. We aim to enrich everyone's life through plants, and make the UK a greener and more beautiful place.