Berberis cretica
Cretan barberry
A tough, low-growing, and sometimes prostrate, extremely thorny little shrub from Greece, Crete and Cyprus. It's a sun lover and drought tolerant once well established. It has small oval mid green leaves that turn good fiery colours briefly before they fall in the autumn. Short clusters of pale yellow flowers in sping become tiny blue-black berries that develop a pale blueberry-like bloom in the autumn. Birds love the berries.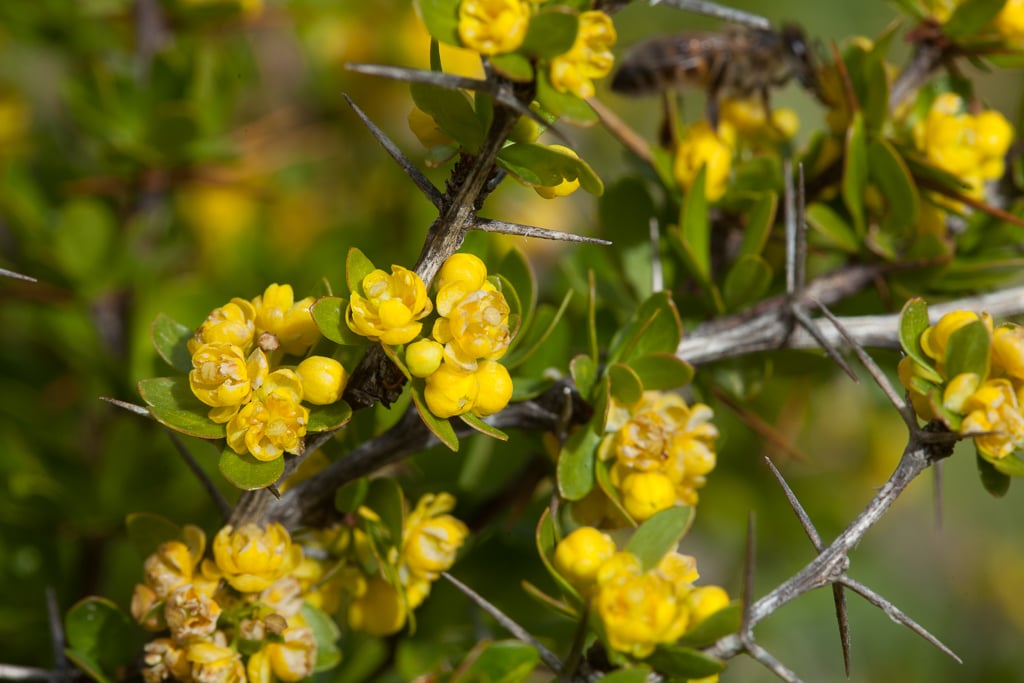 Size
Ultimate height
0.5–1 metres
Time to ultimate height
5–10 years
Ultimate spread
1–1.5 metres
Growing conditions
Moisture
Well–drained,
Moist but well–drained
pH
Acid,
Alkaline,
Neutral
Stem
Flower
Foliage
Fruit
Spring

Yellow

Green

Summer

Green

Green

Black

Autumn

Yellow

Red

Orange

Black

Blue

Winter
Position
Aspect
South–facing or West–facing or East–facing
Botanical details
Family

Berberidaceae

Native to the UK

No

Foliage

Deciduous

Habit

Bushy

Potentially harmful

Fruit are ornamental - not to be eaten. Wear gloves and other protective equipment when handling

Genus

Berberis can be deciduous or evergreen shrubs with spiny shoots bearing simple, often spine-toothed leaves, and small yellow or orange flowers in axillary clusters or racemes, followed by small berries

Name status

Correct

Plant range

Mediterranean
How to grow
Cultivation
Grows in any soil except waterlogged. A sunny position will encourage fruiting. Drought tolerant once established. For more information please see shrub cultivation.
Propagation
Propagate by seed sown in a seedbed in early spring. Many Berberis species cross freely in gardens, so seed-raised plants are often hybrids. Take semi-ripe cuttings in summer.
Suggested planting locations and garden types
Coastal
Rock garden
Mediterranean climate plants
Gravel garden
Low Maintenance
Banks and slopes
Pruning
Pests
May be susceptible to aphids and berberis sawfly
Diseases
May be susceptible to powdery mildews and sometimes by honey fungus
Get involved
The Royal Horticultural Society is the UK's leading gardening charity. We aim to enrich everyone's life through plants, and make the UK a greener and more beautiful place.