Bedding
Herbaceous Perennial
Synonym
Dendranthema 'Salmon Enbee Wedding'
chrysanthemum 'Salmon Enbee Wedding'
'Salmon Enbee Wedding' is a half-hardy perennial to 1m in height, with divided foliage and sprays of single flowers 8cm in width, the rays yellowish-pink tinged with light coral pink, creamy-yellow on reverse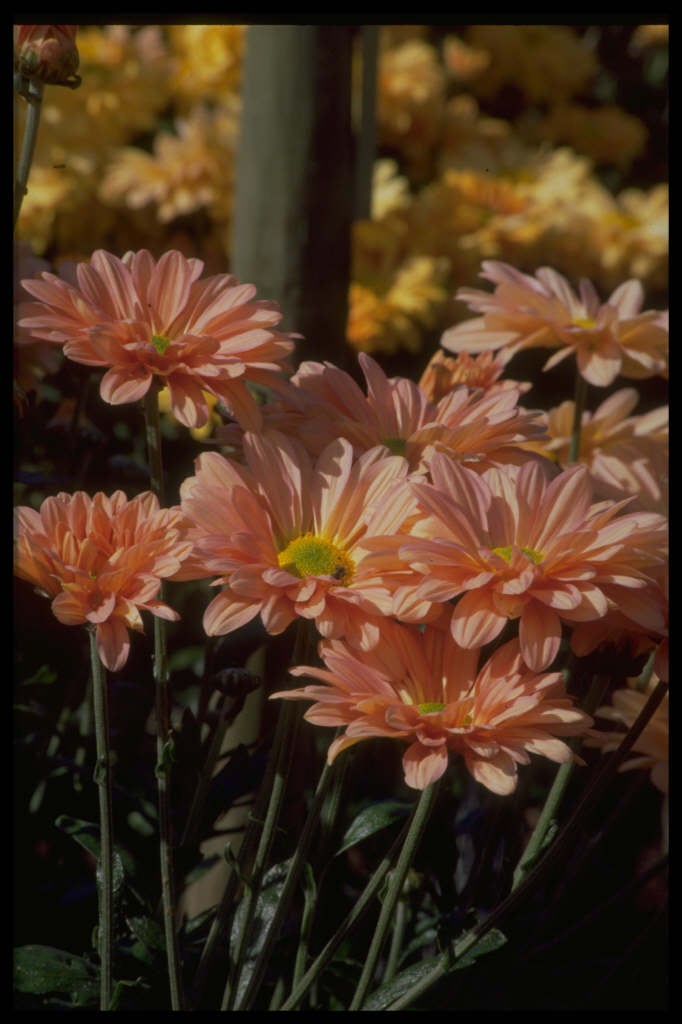 Size
Ultimate height
0.5–1 metres
Time to ultimate height
1–2 years
Ultimate spread
0.1–0.5 metres
Growing conditions
Moisture
Moist but well–drained,
Well–drained
pH
Acid,
Alkaline,
Neutral
Stem
Flower
Foliage
Fruit
Spring

Green

Summer

Pink

Yellow

Green

Autumn

Pink

Yellow

Green

Winter
Position
Aspect
South–facing or West–facing or East–facing
Botanical details
Family

Asteraceae

Native to the UK

No

Foliage

Deciduous

Habit

Bushy

Potentially harmful

Skin allergen. Wear gloves and other protective equipment when handling

Genus

Chrysanthemum are erect woody-based perennials with aromatic, pinnately lobed leaves and flowerheads of diverse form, from late summer to late autumn

Name status

Accepted

Horticultural Group

Early flowering, single, Outdoor Spray chrysanthemums are bushy perennials with several single or semi-double flowers on each branching stem, flowering from late summer to autumn
How to grow
Cultivation
Grow in a cold frame in a loam-based potting compost and move into a warm glasshouse in early autumn. Provide bright filtered light with good ventilation and a minimum temperature of 10°C. During the growing season water moderately and apply a balanced liquid fertiliser weekly
Propagation
Propagate by rooting softwood cuttings in loam-less potting compost at 16°C
Suggested planting locations and garden types
City and courtyard gardens
Coastal
Cottage and informal garden
Flower borders and beds
Cut flowers
Pruning
Pinch out growing tips and disbud as required
Pests
May be susceptible to leaf and bud eelworms, aphids, glasshouse whitefly, glasshouse red spider mite and capsid bug
Diseases
May be susceptible to glasshouse grey mould, powdery mildews and chrysanthemum white rust
Get involved
The Royal Horticultural Society is the UK's leading gardening charity. We aim to enrich everyone's life through plants, and make the UK a greener and more beautiful place.