Cactus Succulent
Houseplants
Conservatory Greenhouse
Ferocactus glaucescens
glaucous barrel cactus
A cactus with a globose to cylindric, grey-green stem to 60cm in height, sometimes clustered; with yellow spines to 2.5cm in length, and funnel-shaped yellow flowers 3-4cm across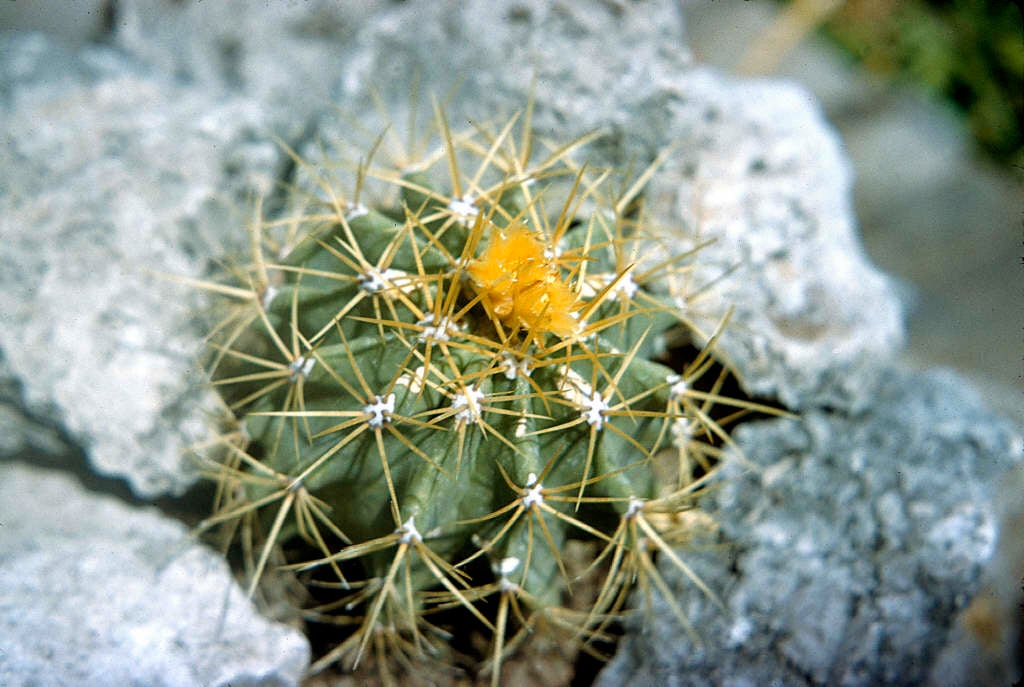 Size
Ultimate height
0.1–0.5 metres
Time to ultimate height
10–20 years
Ultimate spread
0.1–0.5 metres
Growing conditions
pH
Acid,
Alkaline,
Neutral
Stem
Flower
Foliage
Fruit
Spring

Green

Grey

Silver

Summer

Green

Grey

Silver

Yellow

Autumn

Green

Grey

Silver

Winter

Green

Grey

Silver
Position
Aspect
South–facing or East–facing or North–facing
Botanical details
Family

Cactaceae

Native to the UK

No

Foliage

Evergreen

Habit

Clump forming

Genus

Ferocactus are spherical to columnar cacti with prominent ribs bearing spiny areoles, the spines sometimes hooked, and funnel-shaped flowers in summer

Name status

Correct

Plant range

E Mexico
How to grow
Cultivation
Grow under glass in a standard cactus compost, in bright, filtered light, with low humidity. When in growth water moderately and feed every two or three weeks with a balanced liquid feed. Keep almost dry in the winter
Propagation
Propagate by seed sown at 10 - 20°C in early spring
Suggested planting locations and garden types
Patio and container plants
Low Maintenance
Pruning
No pruning required
Pests
May be attacked by mealybugs
Diseases
Generally disease free
Get involved
The Royal Horticultural Society is the UK's leading gardening charity. We aim to enrich everyone's life through plants, and make the UK a greener and more beautiful place.