Hydrangea macrophylla (H)
hortensia
A large, rounded, deciduous shrub with rather coarse, oval, dark green leaves to 20cm long. In mid- and late summer produces large, flattened flowerheads consisting of a few sterile, pink florets with large petals and many small, fertile, blue or pink florets. There are many cultivars, in two group: lacecaps have a few large, sterile florets round the outside with many small fertile florets in the centre; mopheads consist mostly of large, sterile florets
Other common names
mophead hydrangea
Synonyms
Hydrangea
sieboldii
Hydrangea
hortensis
see more
Hydrangea
macrocephala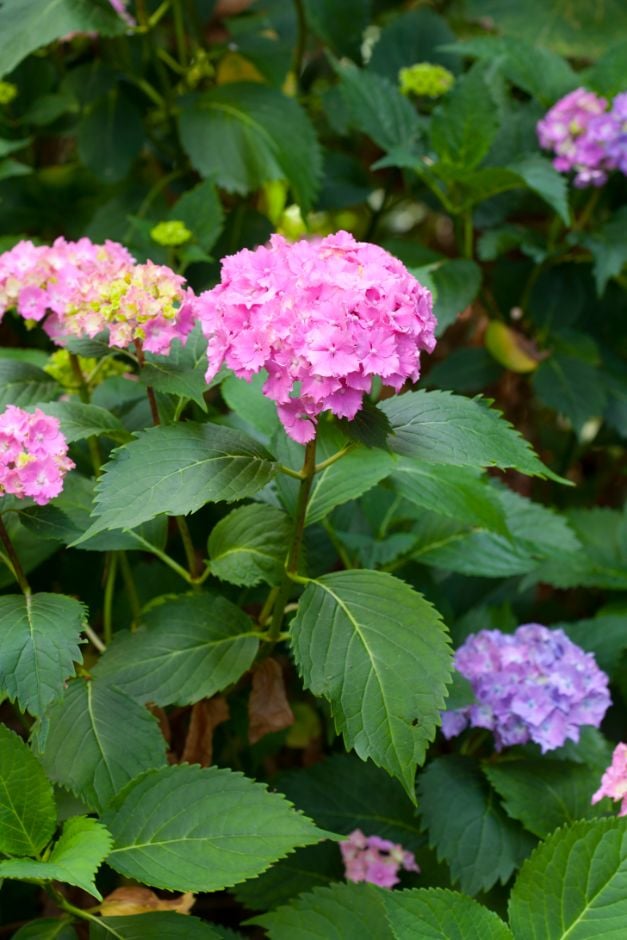 Size
Ultimate height
1.5–2.5 metres
Time to ultimate height
5–10 years
Ultimate spread
1.5–2.5 metres
Growing conditions
Moisture
Moist but well–drained
pH
Acid,
Alkaline,
Neutral
Stem
Flower
Foliage
Fruit
Spring

Green

Summer

Blue

Pink

Green

Autumn

Green

Winter
Position
Aspect
South–facing or West–facing or North–facing or East–facing
Botanical details
Family

Hydrangeaceae

Native to the UK

No

Foliage

Deciduous

Habit

Bushy

Potentially harmful

Skin allergen. Wear gloves and other protective equipment when handling

Genus

Hydrangea can be deciduous or evergreen shrubs, or self-clinging climbers, with flowers in clusters usually comprising both small fertile and more showy sterile flowers; often good autumn colour

Name status

Correct

Horticultural Group

Hortensia hydrangeas (also known as mopheads) are compact bushy deciduous shrubs with broadly ovate leaves and rounded flower clusters composed almost entirely of showy sterile flowers

Plant range

Japan
Get involved
The Royal Horticultural Society is the UK's leading gardening charity. We aim to enrich everyone's life through plants, and make the UK a greener and more beautiful place.