Crocus boryi
Bory crocus
A cormous perennial 8cm high with tufted green leaves with a central silvery-white stripe, and flowers up to 5cm long, creamy white with golden yellow centres and orange stigmas and stamens, and sometimes veined or flushed mauve outside, in autumn; crocuses are a good source of pollen for pollinators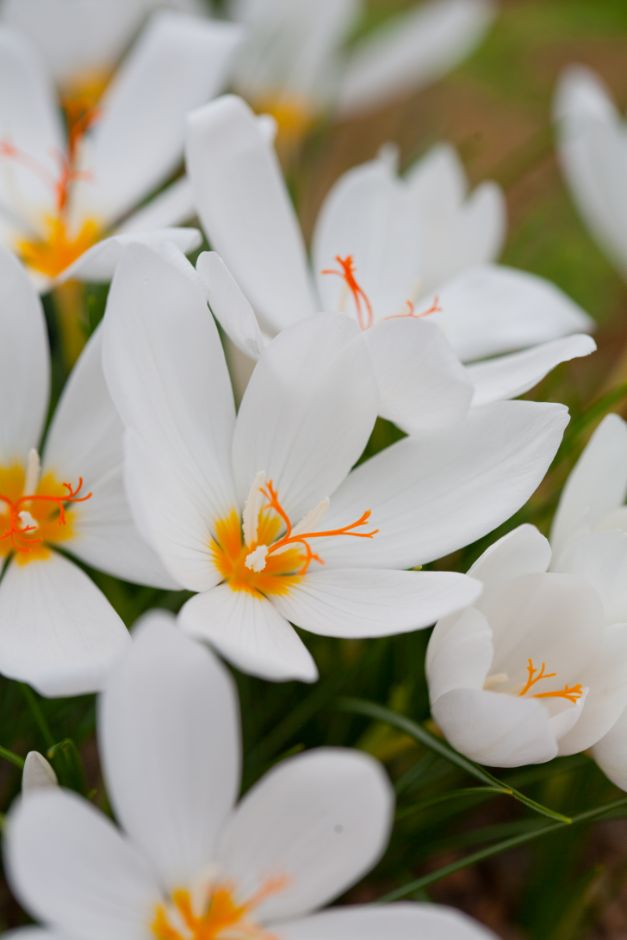 Size
Ultimate height
Up to 10cm
Time to ultimate height
2–5 years
Ultimate spread
0–0.1 metre
Growing conditions
Moisture
Moist but well–drained,
Well–drained
pH
Acid,
Alkaline,
Neutral
Stem
Flower
Foliage
Fruit
Spring
Summer
Autumn

Cream

Gold

Orange

White

Green

Grey

Silver

Winter
Position
Aspect
East–facing or South–facing or West–facing
Botanical details
Family

Iridaceae

Native to the UK

No

Foliage

Deciduous

Habit

Tufted

Potentially harmful

Ornamental bulbs - not to be eaten. Wear gloves and other protective equipment when handling

Genus

Crocus are dwarf, deciduous perennials growing from a corm, with linear leaves usually with a silvery central stripe, and goblet-shaped, sometimes fragrant flowers in autumn or early spring

Name status

Correct

Plant range

W & S Greece Crete
How to grow
Cultivation
Plant 8-10cm deep in late summer in full light in a bulb frame or alpine house, in a mix of equal parts loam, leaf mould, and grit or sharp sand; in the growing season, water freely and apply a low-nitrogen fertilizer monthly, but in summer when dormant keep completely dry; for more advice, see bulb cultivation
Propagation
Propagate by removing cormlets during dormancy; for more advice, see bulb propagation
Suggested planting locations and garden types
City and courtyard gardens
Cottage and informal garden
Patio and container plants
Mediterranean climate plants
Gravel garden
Rock garden
Wildlife gardens
Flower borders and beds
Wall side borders
Pruning
No pruning required
Pests
May be susceptible to rodents and birds
Diseases
Generally disease-free, corms may rot in storage
Get involved
The Royal Horticultural Society is the UK's leading gardening charity. We aim to enrich everyone's life through plants, and make the UK a greener and more beautiful place.