Digitalis × valinii 'Falcon Fire'
A bushy, half-hardy, rosette-forming, semi-evergreen herbaceous perennial with lance-shaped, toothed dark green foliage. Upright spikes of funnel-shaped orange flowers, flushed red-pink, appear from late spring to late summer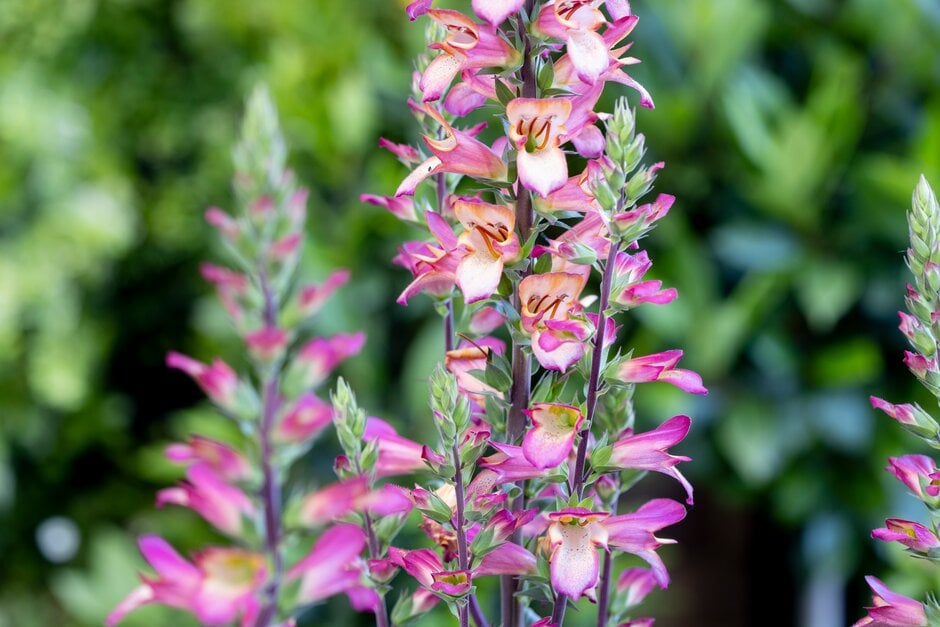 Size
Ultimate height
0.5–1 metres
Time to ultimate height
1–2 years
Ultimate spread
0.1–0.5 metres
Growing conditions
Moisture
Moist but well–drained,
Well–drained
pH
Acid,
Alkaline,
Neutral
Stem
Flower
Foliage
Fruit
Spring

Orange

Pink

Red

Green

Summer

Orange

Pink

Red

Green

Autumn

Green

Winter

Green
Position
Aspect
East–facing or North–facing or South–facing or West–facing
Exposure
Exposed or
Sheltered
Botanical details
Family

Plantaginaceae

Native to the UK

No

Foliage

Semi evergreen

Habit

Bushy,

Columnar upright

Potentially harmful

TOXIC if eaten. Wear gloves and other protective equipment when handling

Genus

Digitalis can be biennials or usually short-lived perennials forming a rosette of simple leaves with bell-shaped flowers in slender, erect, usually one-sided racemes

Name status

Unresolved
How to grow
Cultivation
Will grow in almost any soil or situation except very wet or very dry; ideal site is humus-rich soil in partial shade
Propagation
Propagate by division in spring
Suggested planting locations and garden types
Cottage and informal garden
Patio and container plants
Wildlife gardens
Flower borders and beds
Cut flowers
Pruning
Cut back the main flower spike as it fades to encourage the growth of flowering side shoots
Pests
May be susceptible to aphids and leaf and bud eelworm
Diseases
May be susceptible to leaf spots and powdery mildews
Get involved
The Royal Horticultural Society is the UK's leading gardening charity. We aim to enrich everyone's life through plants, and make the UK a greener and more beautiful place.